Namibian Bank Holi-YAY And A Flat Battery
---
---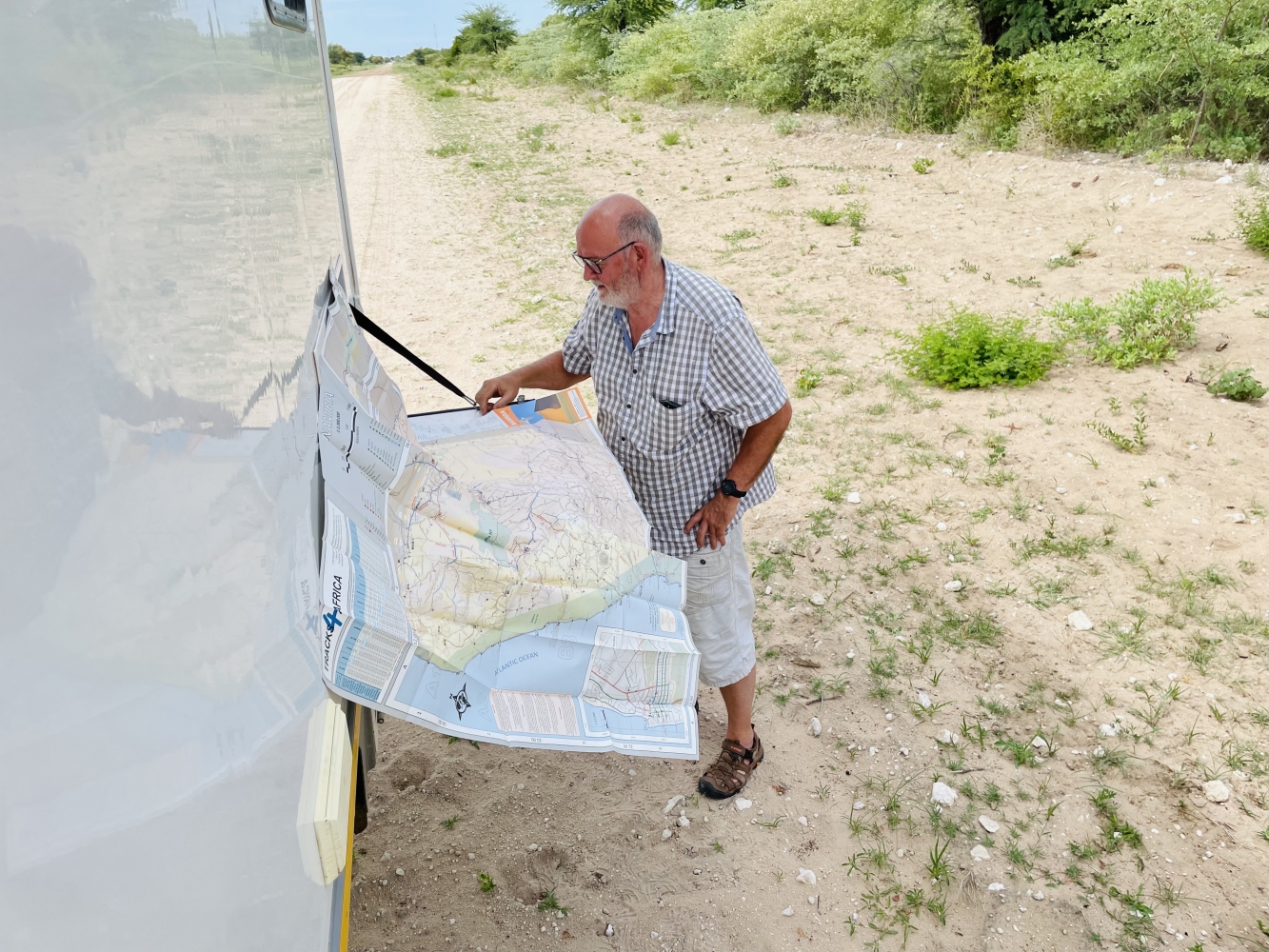 You may well ask, "how the Dickens do you two do it?" We don't know, and honestly, we try our best to avoid misadventures. But, as I remind Butch, nobody is interested in a boring story, and everyone loves a liberal sprinkling of drama and tension.
Our excitement intensified as we navigated "real" dirt roads and the sign clearly stated 130km to Gobabis. On an old till slip, I started making my grocery list. We needed to stock up on our meat supplies, a few fresh saladings, the ever troublesome data reload, and fuel. Butch wanted to get some beer. We should be in and out of Gobabis within the hour we estimated.
---oOo---
Namibia is a large red meat producer, and cattle husbandry is widely spread among the local population and the elite. Cattle are an expression of wealth and are regarded as a means of saving. At the same time, cattle can plough fields, pull sledges, and supply milk and meat for home consumption or the open market. Cattle also fulfil essential social functions; they are necessary for labola (bridewealth payments) and are often used in cattle loans with which wealthy herd owners furnish poorer relatives.
Tourists are encouraged to buy their supplies in Namibia rather than importing them from South Africa, which makes perfect sense. Butch and I prefer to support local industries whenever possible, and I avoid the "Customs" sign at the border like the plague. As John said, "they're like SARS. The less you have to offer, the fewer questions are asked." Indeed.
There are strict quarantine laws, and transporting uncooked meat from the north to the south is prohibited. At the time of our trip, we were permitted 25kg of meat (mutton, goat and beef) per person (over the age of 12, limited to three persons per vehicle) for our consumption only; no permit is required.
---oOo---
We set off to Spar to fill our basket with lovely fresh produce; Butch had the meat list. Although the store is very well stocked with all the usual products and surprisingly good speciality products, we found the butchery disappointing. Fortunately, I did manage to select a Gammon for Christmas.
Being a seasoned shopper, I've learnt that one can ask for help at times. I raised my voice in the braai goods aisle and asked a local gentleman to recommend a good meat supplier in town. Not accustomed to women in red hats buttonholing him, he gripped his trolley and, after a moment's hesitation, told me his preferred butcher was the "Groentemandjie" (Vegetable basket), a bright green building in the Church street. But, he warned, it was a bank holiday, and the Farmstall might be closed. We found it using TripAdvisor.
At the fuel station, I dashed off to find a stash of Aweh! DATA to last while we were bushwacking. Butch would fill up and do the tyre test, decreasing our tyre pressure to suit the well-maintained dirt roads
My search took a lot longer than we'd planned, but I'd managed to acquire 4 vouchers, which we thought would last for ages. We were ready to roll. I hauled myself into my seat and buckled up. The last stop would be our meat supply, and we were running to schedule.
While shuffling to get comfortable, Butch turned the key in the ignition. Click. Again. Click. His top lip glistened. Click. Turning to me, he said, "it's the @#$%ing battery; it's dead." Deader than a Dodo. I shut up. This was not the time to comment.
Soon we had all the fuel attendants lined up behind the truck. With the gear in second and his foot on the clutch, it was heave-ho; the big wheels inched forward enough to turn and ignite the engine. With a splutter, cough and hiccup, the engine fired up. There was no way to switch this engine off until the batteries were sorted.
But, we still had shopping to do. Fortunately.
While Butch went off with our list, searching for the perfect steak and traditional boerewors, I diligently performed my role as a car guard. Without any qualms, I could people watch. Colourfully dressed in their 19th-century gowns, Herero ladies in long, fully pleated dresses and hornlike headgear carried their shopping or held a child's hand. Some cooled down under indigenous umbrella trees where they met friends for a chat. The ice-cream vendor on his bicycle did a brisk trade on a hot day. The engine kept ticking over.
Butch came trotting across the street, hopped in and said while manoeuvering us out of the parking space, "We must follow that bakkie. Tell me where he goes."
Quite by chance, Butch had stopped the owner's husband (Danie du Plessis) at the meat counter and explained our predicament. In a small town, everyone is on first-name terms; Danie escorted us to his friend, the auto electrician, who did the diagnostics. The truck's battery was dead.
While a new battery was being fitted, the boys got to know each other, and it turns out Danie grew up in Robertson! Small world. Although the family makes pilgrimages to the Cape to see family and friends, he has no desire to relocate and loves Namibia. An hour later, we lumbered off.
---oOo---
At five o'clock, we started looking for a wild camping spot. We were nowhere near a campsite and would have to sleep en-route. We caught sight of a kraal in the distance and decided to ask the farmer whether we could camp on his property next to their homes. Soon we spotted the sign OTJININGANDU FARMING – Paul Nependa Murangi. We turned in.
The farm manager permitted us to park and allowed us to set up our camp for the night, assuring us that Mr Murangi would not mind at all. While the family readied themselves for the night, herding the cattle into the kraal, preparing fires for the evening meal, we stretched our legs. Later we lit our fire, and at sunset, we settled into our camp chairs, listening to the nightjars and the barn owl's high-pitched, eerie, screeching.
Later, Paul came over and introduced himself, telling us about his farm, the drought they've experienced, and the anxiety he was facing since his borehole pump had packed up and the cattle were thirsty.
That explained the frantic mooing, bellowing, and grunting from the cattle while a large Brahman bull scratched the earth with his hooves, sending up a plume of red dirt, groaning in frustration. Standing on the stoep, a long-tailed, scrawny watchdog barked and growled to warn friend and foe.
A peaceful silence, only interrupted by crickets, cicadas and frogs, descended on the farm at nine o'clock as we all settled for the night.
Although there were no facilities, I can highly recommend this safe camp spot for an overnighter. I have marked the site on the iOverlander app. GPS: S 21.22207, E 20.27600 We paid R150.00pppn although nothing was asked or exoected.
---oOo---
The deeper we ventured into remoter parts along the eastern border of Namibia, the more interesting the landscape became. Travelling along the dirt roads, we encountered men on horseback, mule-drawn carts, herds of long-horned cattle, goats and the odd chicken crossing the road.
Villages became more rural, with small settlements of huts forming familial kraals with enclosures for livestock. On small farms, soil preparation and planting were undertaken in anticipation of the summer rainfalls.
---oOo---
I couldn't resist the beckoning of a young Khoisan guide inviting us to visit his village. This practice seems to be a community collaboration with the Government, where impoverished San communities are encouraged to welcome tourists and offer a guided tour. We were shown around the village met the school teacher, her assistant and the toddlers. Although our guide tried to teach me to click my tongue, it wouldn't cooperate. The soft, lyrical language with the melodious clicks was too complex on my tongue.
These tribes remain hunter-gatherers and all the ancient traditional hunting, farming and societal norms are practised. e.g. the spears are still forged in the fire and beaten to a sharp point and plant-based poisons are used. Medicinal and edible plants are foraged. These people truly walk gently on this earth.
A conundrum, for I understood the reasoning behind the initiative. Still, I saw the mortification and shame in the eyes of the proud elders who are subjected to this humiliation and invasion of their privacy. The abject poverty these smll communities live with seemed insurmountable, yet while I felt overwhelmed, they remained unbeaten by circumstance.
I include photographs because I promised I would mention our visit, and I would show "the world" (die werêld) how extraordinary the Khoisan are through my lens. As I sit here contemplating the following words, all I can think of are their smiles and the kindness and openness we were shown, but the pain in the eyes of the grandmama still haunts me.
Please click on the link below and read about these remarkable people and the hardships they've endured. I can't recall the fee charged, and it could've been approximately R100pp (we added a tip, of course). The bookkeeper dutifully issued a receipt done in triplicate on carbon paper!
To educate foreigners and tourists about their lives, farming methods, ancient traditions, and the hierarchies governing these villages, there are living museums where tourists and interested travelers can interact and experience village life first hand.
---oOo---
We were ecstatic when we arrived at the Khoudum gate. This is where the adventure started. Butch was eager to fly his Skydio 2 drone, and I can't wait to share some footage.
https://thisisafrica.me/arts-and-culture/historic-significance-herero-dress/
https://minorityrights.org/minorities/san/
Die Groentemandjie - Gobabis
Church St, Gobabis, Namibia
Phone: +264 62 564 255
Wild Camping - OTJININGANDU FARMING
Paul Nependa Murandi
---