The Fab Four Conquer The Kalahari - En Route to Mabuasahube
---
---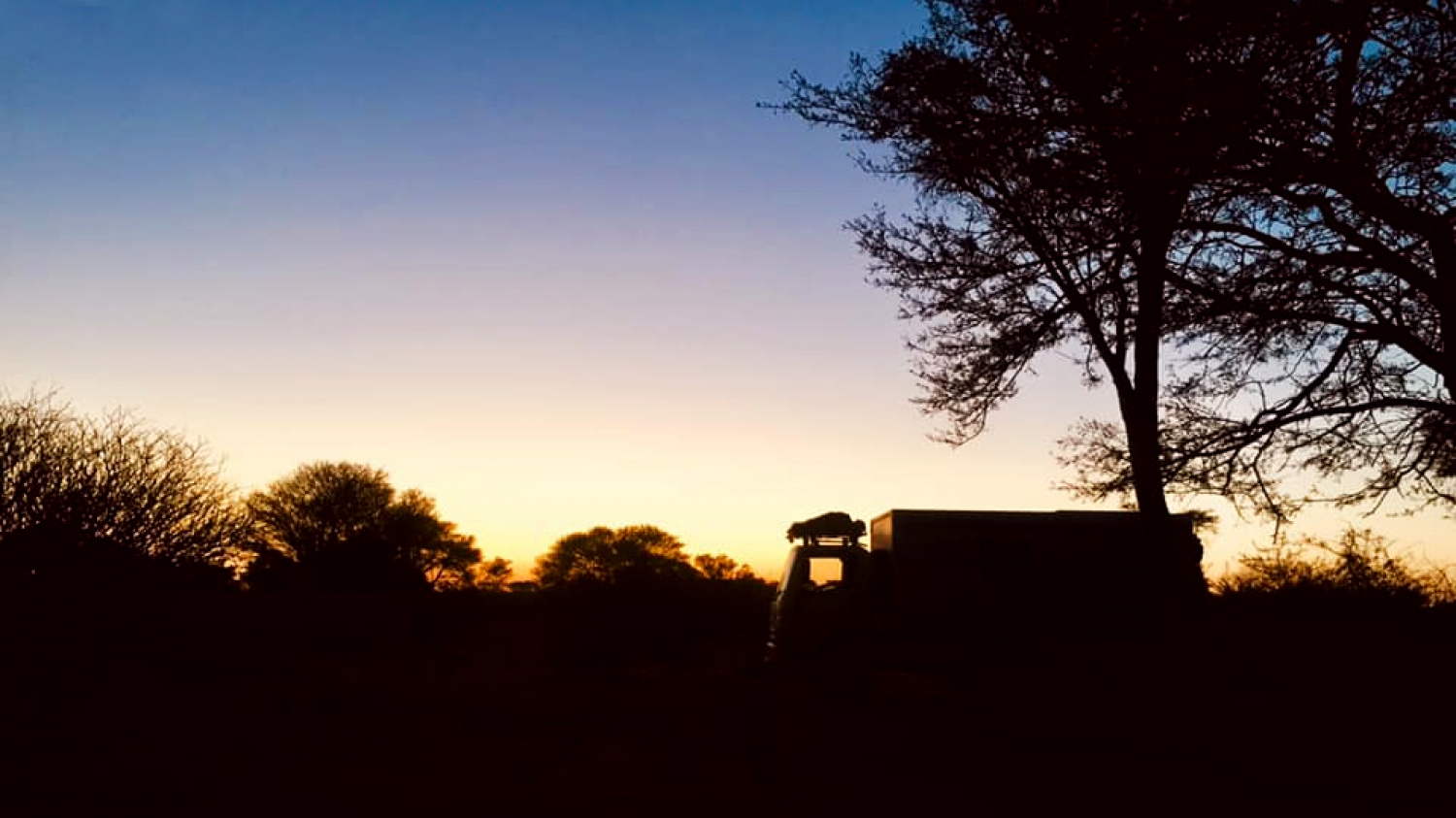 Best friends, best buddies, best Boetie (brother) and hiekkelsuster (crochet companion) that's what Percy and Sue are to us.
It's rare to hear siblings, at our age, actually like each other and choose to spend time together. We do. We're close, companionable, comfortable and cosy. The recipe works. To a large degree it's because we give each other space. Plenty of it. Although I never feel like I'm walking on fragile eggs we are considerate, respectful and appreciative. A winning recipe in any relationship, but, easier when you've been together since the cradle.
Butch and I turned onto the dust road at Melton Wold and headed north stopping for last minute shopping and a hot chocolate at the Spur in Kuruman. Like many mining towns it has boomed and been swallowed up in these uncertain times. A sprawling, dusty and seemingly dangerous town. Security is a big thing and every street has a parking attendant warning motorists of thieving gangs who will not hesitate in their efforts to rob and intimidate. Fortunately I was quite unaware and went about my shopping with ease. All was well.
We had a leisurely drive up to Red Sands Country Lodge where we'd camp for the night. Just 17 kilometres west of Kuruman this is the perfect gateway and overnight stop to the Kalahari or Richtersveld. We'd reserved a campsite with private ablutions which was a treat. Butch was eager to watch the Springboks whip the Wallabies so went off to the pub as soon as we parked to support the boys in green and gold.
I couldn't connect the electrical cable so with no hesitation, I have a learner's license after all, I reversed the Honey Badger into perfect position without bumping anything. A milestone for me!
After settling and preparing for the night I set off to join Butch at the bar to watch the tail end of the rugga and then we sat down to a "traditional" Kalahari German themed evening. A buffet isn't my favourite choice of menu but, it was great to not have to cook so I looked forward to enjoying German cuisine. The dining room was chock-a-block with diners as this must've been a favourite theme evening for locals and visitors to the lodge.
We, unfortunately, got to the buffet a little late when many of the courses and dishes had been on the Bain Marie for a while. Never the less we enjoyed our meal and I must make special mention of the Mozart Cake for dessert. It was DE-LI-CIOUS.
Next morning we set off to meet Percy and Sue. Problem. The exit gate has a height restriction and we often have to enter and depart using service gates. The gate didn't have an auto open facilty so it was a bit of an inconvenience returning to Reception, finding someone to sort the problem. With clenched teeth we grinned and bared it and then we were off. Traffic was light and we made good headway.
Our first evening together would be spent on the South African side of the border near McCarthy's Rest. Springbokpan Guest Farm. We were in the Kalahari. Beautiful thorn trees, a Lapa with chairs and tables set up, fire wood stacked in the fire pit and a well equipped kitchen in an iconic 1970's fibreglass igloo. Each campsite had its private ablutions.

Just up my alley. Hot, clean and prettily appointed I relished the shower I enjoyed and washed my hair giving my scalp a good massage, I didn't know when I'd have the opportunity to repeat this as from then on we had to provide all our own water and we only had about 260l with little promise to fill our tanks once in Mabuasahube for ten days.

The Honey Badger has two diesel tanks. A basic system was installed whereby diesel is pumped from the auxiliary tank into the main tank when that is running low. The pump she stopped working plus we didn't really know how full she was as most attendants find it difficult to fill the spare tank properly. We were confident we'd be able to remedy this in Tsabong when we filled up. Fuel is much cheaper in Botswana and we wanted to have our tanks as empty as possible making full use of the cheaper fuel.

It would be an early night as we were hoping to have an early start next day. Layering my warmest scarves, gloves, beanie and thermal socks I sat down to enjoy my first sunset. The log fire was burning warmly and we enjoyed our first gourmet meal. Sue and Butch were on duty, it was a proper braai with no frills when the chops and boerewors would have to speak for themselves. The Greek salad was delicious and I had a second helping enjoying the crispy lettuce and firm tomatoes, I didn't know when we'd have this again.

Before switching off the lights at night Butch checks all our gauges e.g. our electricity usage and water tanks. He was concerned about our water. We seemed to be losing our precious sweet Worcester mountain water. Why and how we couldn't figure out as we hadn't noticed wet spots below the tanks, although there was a small patch which we'd put down to condensation only. This was not good as we'd be wholly dependent on our water supply while camping. We'd have to check this ASAP. We switched everything off. That did the trick.

Butch tossed and turned all night. He was worried about the fuel tank. The pump had to be sorted. Without further ado the friendly owner of Springbokpan offered to check and see what could be done.

Being a working cattle farm necessitates early starts and staff were already abuzz servicing a Land Rover, bonnet up they were heads in the engine. We were in good hands. I did a quick recce and felt quite nostalgic walking with the three Jack Russells milling about my ankles, up the red sand road to the cattle pens. My formative years were on a similar farm and this walk triggered long buried memories.

My Oupa (Grandfather) was a cattle farmer in the Western Transvaal (now North West) and during the lean winter months he used to drive their cattle herds to fertile pastures in Botswana (Bechuanaland). My mother recalls how they used to accompany their father on these treks. I can just imagine how peaceful it must've been, slower than now. I can hear the thunderous crack of a whip as the cattle were spurred on, how the children and the team of dogs ran and played along the way sleeping under the stars at night. Meals around the campfire and how precious that family time was. In those days the plains were probably teeming with antelope, wildebeest, cats and other predators. The journey was slow, taking a month or more and then later when the rains came they'd return home. A time when seasons changed but life a little less.

At last hands were dusted off and the verdict was issued. The diesel pump had burnt out. It would have to be replaced. Fortunately every village and town in Botswana was well geared up in the engine repair department. We would stop at the very first fuel station on the outskirts of Tsabong, they had a spare parts shop and would help us.

Passport control was a piece of cake and we slipped through into Botswana without hassles. All the officials were friendly, one official enquired despondently about our "imports" we had nothing to declare. We were waved through.

The Diesel pump, connected to the trucks battery, was a 24 volt pump. We thought. The suggested shop couldn't help us so we trekked up to another recommended dealer who'd also install a new pump. While the technician was busy inspecting I sauntered off to the small shopping centre. On my return I learned that our burned out pump was 12 volt connected to the truck's 24 volt system Go figure. The technician said "and I thought everybody in South Africa was clever!" Now we have a new 12 volt pump connected to 12 volt current. The installer of the incorrect pump will never be identified of course. Everyone shrugs incomprehensively.

There was a problem with Diesel supply. This is Africa. Up and down the Main Street we trundled. So back we went to the very first stop. We were lucky and could fill up both tanks.

At last we were on our way. Just a few kilometres out of town we hit the soft sand track to Mabuasahube. This would be slow. In 4x4 low range we made progress at 30kph. A long, slow crawl. Butch had been put under a lot of stress with the diesel pump, diesel shortages, water losses and the border control. Concentrating on this arduous road tired him and when he thought it prudent offered me the wheel. Of course I said YES!
Boy was it a new experience for me. The tyres often felt as if they floated above the sand and views were deceptive as the shadows cast by the afternoon sun made potholes, drifts and gulleys almost impossible to see. Coasting along at 20-30kmph I gripped the steering wheel and negotiated us from the left to the right hand side of the road momentarily trying to find the "best" route over the corrugations which are caused by large trucks and smaller vehicles with hard tyres as the axils' vibration causes the uneven corrugated undulations. I don't think Butch relaxed at all.

And then. I planed over soft sand and came to a thundering stop on the shoulder of the road. The tyre monitor started beeping. We were losing air. Fortunately we could make it to the gate without having to deal with a tyre change on this chocolate mousse road.

During the late afternoon we arrived at our campsite. The Knights were all set up and ready to receive us. Excitedly we got ourselves comfortable. Chairs out, table set up and our groundsheets firmly knocked down. With refreshing drinks we watched the sun set and later sat down to a delicious Curried tripe casserole. A traditional South African treat served with pumpkin fritters and salad. Pudding would be Brandy Flambé peaches and Camping Ice Cream.

We were grateful to be there and went off to bed with hearts brimming with joy. Long may it last I thought. During the night I found myself sliding down the bed for some unfathomable reason. Subconsciously I knew what was wrong. We had a flat tyre.

This time Butch was more than ready and in a jiffy, with Percy's help, they managed to change the wheel. We suspected the rim had once again sprung a leak. Trying to reset the tyre pressure monitor was impossible and for the duration of our trip we had an annoying, relentless beep-beep from the defunct tyre. No matter what Butch did he could not switch it off. That's technology for you. Great while it works, frustrating when it doesn't.

There was no time to pout or complain. We were in the bush.
---