The Honey Badger Headlines - The Annual Moan Report
---
---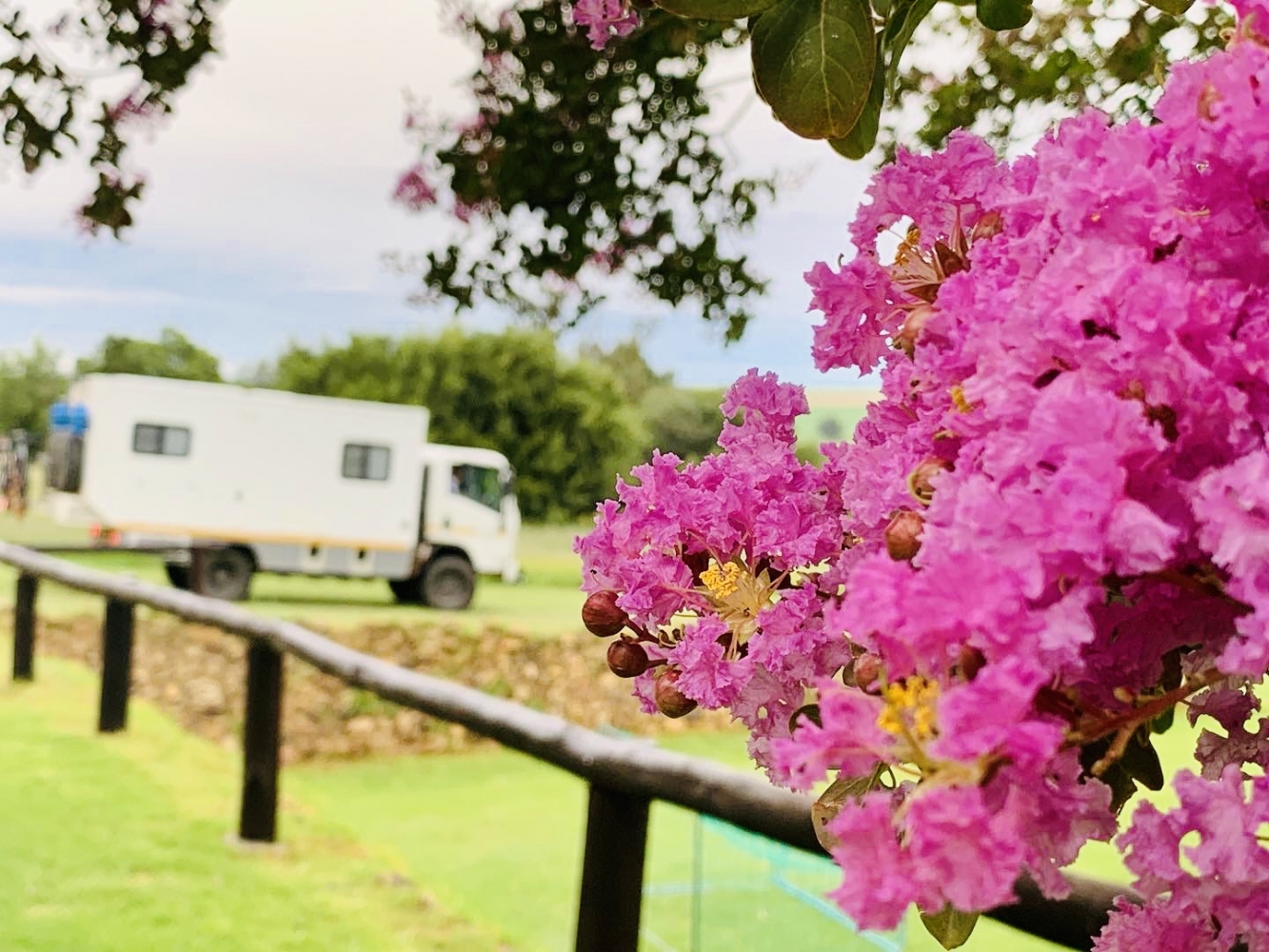 Many a sailor or boat owner will attest to this truth. Boats are dry docked for longer periods than they're afloat. Our darling Honey Badger never lets us down in that department either. When the one problem is sorted, she springs a leak somewhere else. I think she's just attention-seeking. She has character. Who wouldn't be high drama with her pedigree? Someone malevolently said she's "Butch's folly." The old sour puss.
We've had our share of tyre problems, punctures in the Tankwa Karoo's road of death (to tyres), cracked rims causing slow punctures, tyre pressure monitor reading the spare tyre, and so the list goes on. Our rims were custom made by a company in Gauteng that will remain unnamed. The person who Butch contacted there regarding the cracks in the rims has since left and started his business, J&L Refurbishing. We're very happy to report that after Joe Liebenberg undertook to sort the cracking rims out, we've not had any problems with the wheels for many thousands of kilometres. Oh, except a slow leak from the valve extension we detected in Upington, which was swiftly sorted. Butch has since recommended Joe Liebenberg to many owners of Isuzu NP300 conversions. As far as we know, Joe is the only local manufacturer of the super single rims, as an alternative to the expensive imports from Australia.
Tyre pressure is something we're coming to terms with and have learnt that our tyres can handle less pressure and very little pressure while we navigate sandy or corrugated roads, finding that two bar on sandy roads like the Kgalagadi and West Coast National Park is preferred.
The rumbling, rolling, shaking about still has to be sorted, in my opinion. Our suspension leaves much to be desired when we're on a corrugated road. Extra blades have been installed, and our tyre pressure adjusted, yet, the noise is deafening. I read of another couple who also found this a problem on a recent trip to KNP. The lady was so unsettled that she flew home. I do not have that luxury.
Our trip to Natal and back was without incident; I'm happy to report. All plain sailing it was. Thank goodness because, at times, we were pretty remote.
The appliances in our vehicle are mainly Dometic products. I would fail in my duty if I didn't report that we've been very disappointed with this range. The stand-up fridge's magnetic door can't cope at all. I would procrastinate as long as possible before opening the "front" door, fearing what might've dislodged and would be hitting me on the shins as it rolled down the steps. Fortunately, a very practical man glued two strips of industrial VELCRO to the doors while we were at Mana Pools; it's still holding things together. Besides the Velcro, we've got various crates and picnic baskets wedged in place too. After hours in the truck, I don't have the energy to handle the chaos.
On every trip, the glass shelves have dislodged themselves, causing foodstuffs to collapse on top of each other. When the doors are opened, special care must be taken to prevent the contents from spilling out. On a recent trip, the glass covering the vegetable drawer snapped. One might feel less disheartened if the product had been a cheapie. It's not.
The plastic slider clips meant for the job are long gone, and we only have one left instead of at least four. We've tried replacing them, but the supplier does not keep stock. Are we the only people who have these problems? It can't be.
One burner on each hob has given up the ghost. Installation problems, we were assured. With a young technician's flightly fingers wrangling cables, he separated certain pipes. The hob functioned for a while. Not last time I tried using it, though—also a Dometic product.
We fastidiously check, maintain, clean and treat every nut, bolt and screw with the utmost caution, yet they still fall out or off at times. Getting them replaced is frustrating, and many hours are spent online or on the telephone with manufacturers, suppliers and workers trying to get replacement parts. These things one never reads about in glowing consumer reports.
It is accepted that our journeys and explorations are not for the fainthearted as some of the roads we traverse are badly maintained (and not always in remote areas); we appreciate that the sacrifices we make in comfort can't be quantified when we consider the experiences we've had and hope to have.
Beneath our bed, we have a large storage locker ideal for storing extra groceries, medications, tripods, things we don't need regularly. To get to my ammo boxes, I need to lift the heavy lid below our mattress. A year or two ago, while a tad stronger, I would rest this on my back and squirrel around inside the locker for the things I needed. We had gas struts installed. The first one's collapsed, not managing the weight. The second set worked for a while and then failed, bringing the whole caboodle crashing down on my head. That was because one of the two struts worked loose. That has been rectified.
We need to have our roof rack reinstalled. A trip to Ceres needs to be undertaken for that. Our bike rack works like a bomb, except that our fastenings and ties were complicated and upon returning from Natal found that my bike's back wheel had turned egg shaped. The rim and tyre had to be replaced. We've got a new system for securing our bikes.
---oOo---
The most important event almost slipped my mind. It must be temporary dissociative amnesia. We had brake problems while in the Kgalagadi. Forewarned we were that our brake linings would need replacing after our trip to the Kalahari. Unfortunately no-one foresaw the amount of water we would encounter there. Sand and water are abrasive, and like fine sandpaper, they can cause untold damage to moving parts. Add corrugations to the mix, and one has a cluster bomb. Butch found himself "pumping" the brakes towards the end of our holiday. Not a good thing. Imagine surviving Covid and then flying off Piekenierskloof? Easter Weekend traffic was looming too. Fortunately, he decided to have them checked asap in Upington. A quick internet search suggested we contact Hi-Q in Upington. They recommended Upington Motor Spares.
We pulled into Upington, brakes a pump'n three days before Easter long weekend. Long story short. Gary, the technician, soon had our Badger on stands, her wheels off and started investigations. Not only were the brake linings kaput but, the bearings on one wheel had at some or other stage overheated and needed replacing. The cause could be overweight (our vehicle was 1000kg overweight before we replaced the "box" by a professional team at AC Motor Homes). Shock! All the brake linings and wheel bearings had to be removed and replaced.
With staff in a frenzy running around Upington looking for spares, we spent two days wandering about, shopping, until we heard that the parts had to come from Cape Town and would only arrive after Easter. We decided to leave our Honey Badgert there and return home.To cut to the chase, Butch ended up sourcing some of the parts after a fortnight's wait. After a few phone calls to local engineers he had the parts within a few hours. The joys of living in a small town.
We hoped a few additional chores could be done while the truck was on blocks, but that didn't happen. Three weeks after leaving our Honey in Upington, we caught an Intercape overnight bus in Worcester to bring her home from Upington. But that's a whole other story for another blog.
Before we finally left Upington, Butch noticed that the back wheels were put on incorrectly, they had to be taken off, turned around and replaced. We were speachless.
Thank you, Gary, Martin and Cheri, for doing a sterling job on our truck. Thanks, Cheri, for clearing out the refrigerator, being our contact and managing us, calming us down and reassuring us all would be well!
On a recent bike trip to Verneukpan my brother Percy, and his wingman Jay, posed for a "surreptious" selfie, in the background is the owner of Upington Motor Spares. They knew all about our girl. News travels.
---oOo---
I have a very finely tuned sense of smell. Any old rat will be sniffed out, albeit I'm a chronic hayfever sufferer. On occasion, especially when I re-entered the truck, when it was closed for a period or in the mornings, my nose twitched. I'd go into high alert, mistrustful of the faint, musty smell. The reek of dead rodent or, to be more polite, a first thing in the morning wet nappy smell. Sulphur. Before saddling Butch with my sniffing, I checked all our baskets, crates; I investigated under the table and all nooks and crannies. Nada. But the pong persisted. One morning I went onto my hands and knees and did the sniffer dog test. The smell was coming from the seating area. That's when I removed the cushions and opened the lid on the suspect. Voila. A pungent smell and heat almost bowled me over. I staggered backwards and called Butch. Our batteries were emitting noxious fumes.
Two deep cycle batteries had to be detached. Mercifully we were plugged into electricity and could function semi normally for the duration of our holiday. We had four new deep cycle batteries installed in Upington. We have subsequently learned that batteries have a limited lifespan, more or less as long as the guarantee, and then pack up. In future, we'll have to be more vigilant. As my Dad always says, "It's all part of the sandwich."
---oOo---
Thankfully, we live in a post-lockdown era where local travel has become popular, and many off-road caravans are being manufactured, improving the designs, functions, and utilities installed. Worcester is an industrial town, and there are numerous engineering businesses to call upon for help. Last week we had a water leak repaired at Bushwakka, a local manufacturer of Overlanding trailers. They are so highly regarded that they are exporting to Australia.
At road blocks, weigh points, toll roads etc. we still have to explain that our truck is a Motorised Caravan before we're waved through without having to pay extra tolls and taxes.
Now that I've got all this off my chest, I do feel a lot better. It is professed that journaling our emotions is a way of dealing with them. And now I have done just that. The Honey Badger remains the best decision we've made. I can't wait to go road tripping again. A few mishaps keep us on our toes, and it's through these frustrations that we keep the travel bug alive.
There are positives, e.g. we have a Bluetooth speaker providing us with an alternative to the radio. We have uncluttered our drawers, and on each trip, we remove unused items. Our bed is starting to take on our curves.
We love our Honey Badger more than ever, and we are getting accustomed to her quirks. After all, no one is perfect. And if she's our folly, mission accomplished, we love our silly, eccentric, wildly exciting lifestyle, we chose to live this life. The issues we have keep us grounded and make for good stories.
"Travel isn't always pretty. It isn't always comfortable. Sometimes it hurts; it even breaks your heart. But that's okay. The journey changes you; it should change you. It leaves marks on your memory, on your consciousness, on your heart, and your body. You take something with you. Hopefully, you leave something good behind." – Anthony Bourdain
Next time we've got to sort out that squeak in the passenger door Butch. You've guessed it Butch is the Honey in this equation, and the Badger is…… We'll cross all our bridges as we're presented with them.
RIM MANUFACTURER
UPINGTON MOTOR SPARES
Address: 15 Dr Nelson Mandela Dr, Upington, 8801
Hours: Open ⋅ Closes 4:30PM
Phone: 054 332 2641
---oOo---
---