Travels With Tozers Tuscan Tours
---
---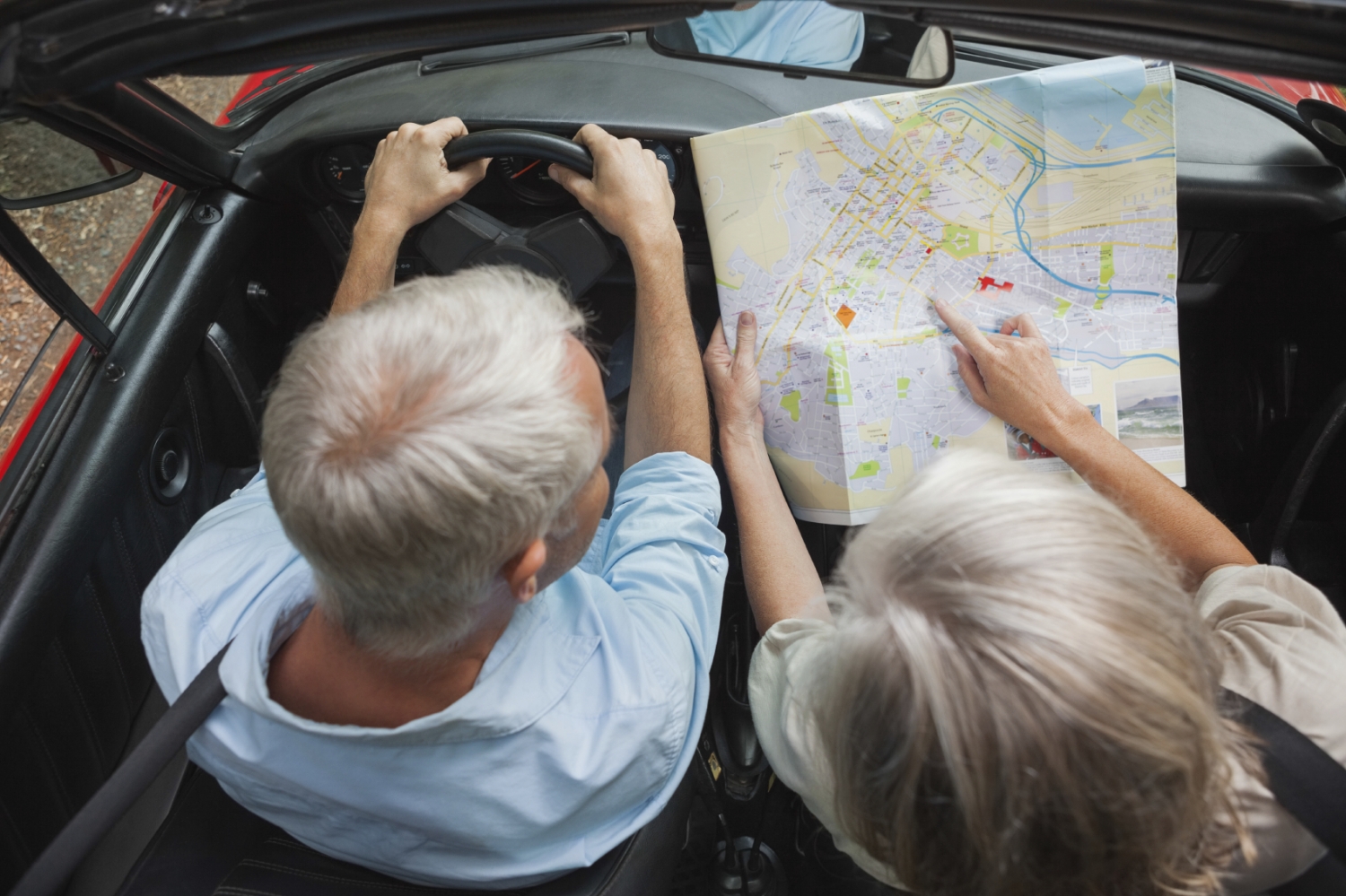 There is nothing amusing about two middle-aged couples in a hire car. You have the driver, co-pilots and backseat drivers. All experienced, experts, who think driving on the "wrong side" of the road is a walk in the park. And then you have the GPS. An unfortunate woman with a posh accent. Who, according to the male passengers knows bugger all. A woman who delights in leading one on a wild goose-chase with the sole intention of getting you lost? Oh! And ours was Italian. Cor blimey it was mayhem. Our poor confused map-reader got it in the neck on a couple of wrong turns until the pavement jumped up and hit our front tyre causing a bubbled profile. Our next stop was the garage for a new tyre.
Of course as soon as the rental agent heard about the prang she was fluent in English, telling us in no uncertain terms that all hell would be breaking loose and waffled on about responsibility and us being irresponsible! We returned the car in an immaculate condition 14 days later.
We needed to re-group, have lunch, catch our breaths, relax and calm our nerves. Lunch did the trick. A large platter of all things Italian. Parma ham, melon, a selection of cheeses, plump Rosa tomatoes, basil and a flagon of Chianti. We were off to Chianti after all. The GPS was reset on UK English. Our address punched in. The map reader was relegated to the back seat and told to mind his P's and Q's.
Off the highways we skedaddled and took a slow meander along winding country lanes through forests and over mountain passes to our destination. The architecture! Right out of Conde Nast.
Greve (pronounced gray vay with a fast Italian accent of course) it would be, where we'd spend five glorious days in the countryside enjoying all things Chianti (Key-jan-tay said quickly) has on offer. We arrived, exhausted, moody and slightly antsy.
Situated in the village square was our beautiful apartment. Minimalistic, decorated in creams, blonde wood with soft faded honey hues on the walls. We collapsed in a heap and breathed a sigh of relief. Our moods softened as the sky turned pink and the temperatures dropped. After a hot shower we drifted downstairs again, looking for a supper joint. The local country market was just winding down as stall owners packed up their wares and three musicians took over to entertain us at sunset.
Our days were spent hiking to various villages, enjoying the countryside. Indulging in fine food, savouring exquisite meals in fine restaurants, visiting vineyards, cellars and galleries. Each day we'd spoil ourselves with a late evening ice-cream from a local gelateria. The flavours and varieties are just staggering, they let the tastebuds tingle in delight.
Close your eyes and imagine Tuscany. Rolling hills, pencil cypresses, winding roads, blue skies and magnificent vineyards, orchards, the yellowest lemons and purple figs. Take a deep breath and breathe in the flavours of Tuscany, smoky cured meats, green olive oil, fragrant pomegranate, earthy mushrooms, and musty truffles and then savour the rich fruity wines, tarty lemon of Limoncello, sangiovese grapes make the famous Chianti, oozing favours of herb, dried fruit and blackest berries or cherries.
Pink sunsets. Yellow and orange sunrises, shades of mauve, French blue, baby blue and lightest lavender skies. Apple and greengage, sage, silvery olive or mint landscapes dotted with homesteads in oxblood, ochre, tangerine, blood orange or honey.
Tradition still rules. A deep love of the earth is evident everywhere and is depicted in their rich culture. Families still gather under ancient olive trees or a wisteria pergola to celebrate at meal times, lingering over pottery bowls filled with pasta coated in simple sauces while breaking crusty loaves and dipping ends into the greenest oils and rich, tart, Balsamic vinegar aged in oak vats for decades to a concentrate. Fragrant and sweet.
Each morning we'd have our first cup of coffee outside on the square where the barista got to know us and with disdain would announce to the world that I had an American coffee laced with cream. Snotty, but with a twinkle in the eye. He did bake the most delicious Pain Chocolat, so I forgave him. Next time it'll be "Espresso or caffè con panna Grazie Senor"!
Tuscans have a love of art and generously display sculptures in gardens, along paths and roads leading to homesteads, vineyards and orchards with splendid worked iron, marble or bronze often as a homage to the earth and what it allows us to produce. Ceramic art is plentiful and homes are adorned with beautifully crafted, cherished pieces spanning many generations which are on display for all visitors to enjoy.
I spent days browsing small shops where artisans still produce finest bespoke leather goods, finding it hard to resist the painstaking stitchery that goes into the production of a fine handbag or mules.
The cobbler was happy to have me wander around, but too busy for a portrait. Often so transfixed, I'd get a nod from the cordwainer's assistant who started a conversation, turns out she's from Durban! Once we'd established common ground she told me her story, how she'd left home after school to visit her family in Chianti, fell in love with the local butcher and stayed, raising three children in beautiful Greve.
We splurged and bought a beautiful lamb shoulder from the butcher, instead of a slow roast in the oven, which we didn't have, only discovering this after the purchase. I had to improvise and pot-roast the joint in a ridiculously unsuitable saucepan! Tuscan and delicious it was. We laid our table on our patio and enjoyed the evening out of doors listening to night sounds from the Piazza. We wandered down for our customary ice cream cone later on.
Next door to us was a tiny shop displaying a child's smocked frock reminding me of dresses my daughter wore growing up. She had a favourite one which she'd doll up with a pair of black patent leather shoes with a slight stack heel. We had to spirit the shoes out of the house in the dead of night, she'd outgrown them, but hadn't accepted it yet!
Our feisty but friendly landlady owned the shop, where she'd been the seamstress for sixty years producing beautiful silk lingerie, linens, napery and children's clothes. Delicate laces were carefully stitched onto necklines or inserted onto bodices and hemlines, necklines or sleeves turning the dreamlike garments into heirlooms. I could only admire the pieces softly running my fingers over the delicate silk, cotton or linen fabrics just to get the weight of them.
If you know me ever so slightly or you've dined at my table or tray, you'll know I have a penchant for a linen napkin. I have drawers filled with them and can barely resist a new one. In this shop I had to slap my wrist really hard to resist the temptation. Egyptian Linen. Embroidered. Monogrammed. White linen. Antique linens softly discoloured with age. I could smell the starch! Oh to see them and touch them. To own one? Too rich for my blood. But they're forever engraved on my heart! There is nothing as good as the crisp whiplash of freshly washed and starched napkins ceremoniously flicked onto one's lap. I must be quite Edwardian.
Chianti is the home of Pinocchio, that wonderful children's book character. I wonder where Gepetto crafted his puppet on a string. It was heartwarming to see the original C.Collodi character and not the Walt Disney re-enactment in stores, market stalls and book shops.
It took me three hours and a hundred passes to eventually pluck up the courage to enter the Antique/Art shop. Owned by a delightful character, who collects bric-a-brac and especially frames. Dr. Khosrow Salehi, an academic, highly acclaimed artist, watercolourist, raconteur and adventurer. Who fell in love with Greve during one of his Italian escapades and stayed. He is considering selling up, to reunite with his estranged wife (who moans like a drain), to live his retirement in his homeland. I succumbed to his charms and bought a miniature watercolour, dated 1848. In return I was gifted a charming pen and watercolour illustration of an Istrice, porcupine. I've had it framed and I admire it almost every day as I type my blogs. I think I got the bargain spending a most enjoyable hour in the overcrowded, utterly charming shop. I do love my portraits of the artist, the light was just right.
Please indulge and enjoy my photographs, I hope they speak louder than words. If a trip to Tuscany is on your bucket list or you'd like to return you'll never regret it. We loved our adventure to Greve, our day trips and walks were invigorating. Not only were our taste buds tantalized, but our minds and spirits were restored as we delved into the culture, history and a way of life we'd all like to emulate.
One evening, as a guest of the chairperson of the musical society, we were treated to an evening of classical guitar and flute. We made our way up to the Castello di Verrazzano perched on a hill overlooking a classic Tuscan valley. My day was made. Not only did we enjoy magical sounds but also witnessed a spectacular sunset from our seats I hope we can return some day, but until then I'll just enjoy fond memories while I page through my photographs which tell our story. Next time I'm also going to sit on a bench and watch the world go by.
Our apartment: www.booking.com
Apartment Matteotti
Piazza Giacomo Matteotti 31,
50022 Greve in Chianti, Italy
Grazia Giachi
(For fine linen and lingerie)
Caffè le Logge
(best coffee and coissant)
Galleria Civetta
Piazza Giacomo Matteotti, 42,
50022 Greve in Chianti FI, Italy
e-mail: info@galleriacivetta.it
We wined and dined at so many restaurants and as the devil would have it I've mislaid the business cards I so conscientiously saved to mention in this blog. It's never a bad idea to go on your own voyage of discovery though, there is so much to do and it's not difficult to find recommendations on various websites like TripAdvisor or better yet, from locals, they know after all.
---