A Saffa Safari - A Road Trip To The Kgalagadi Trans Frontier Park
---
---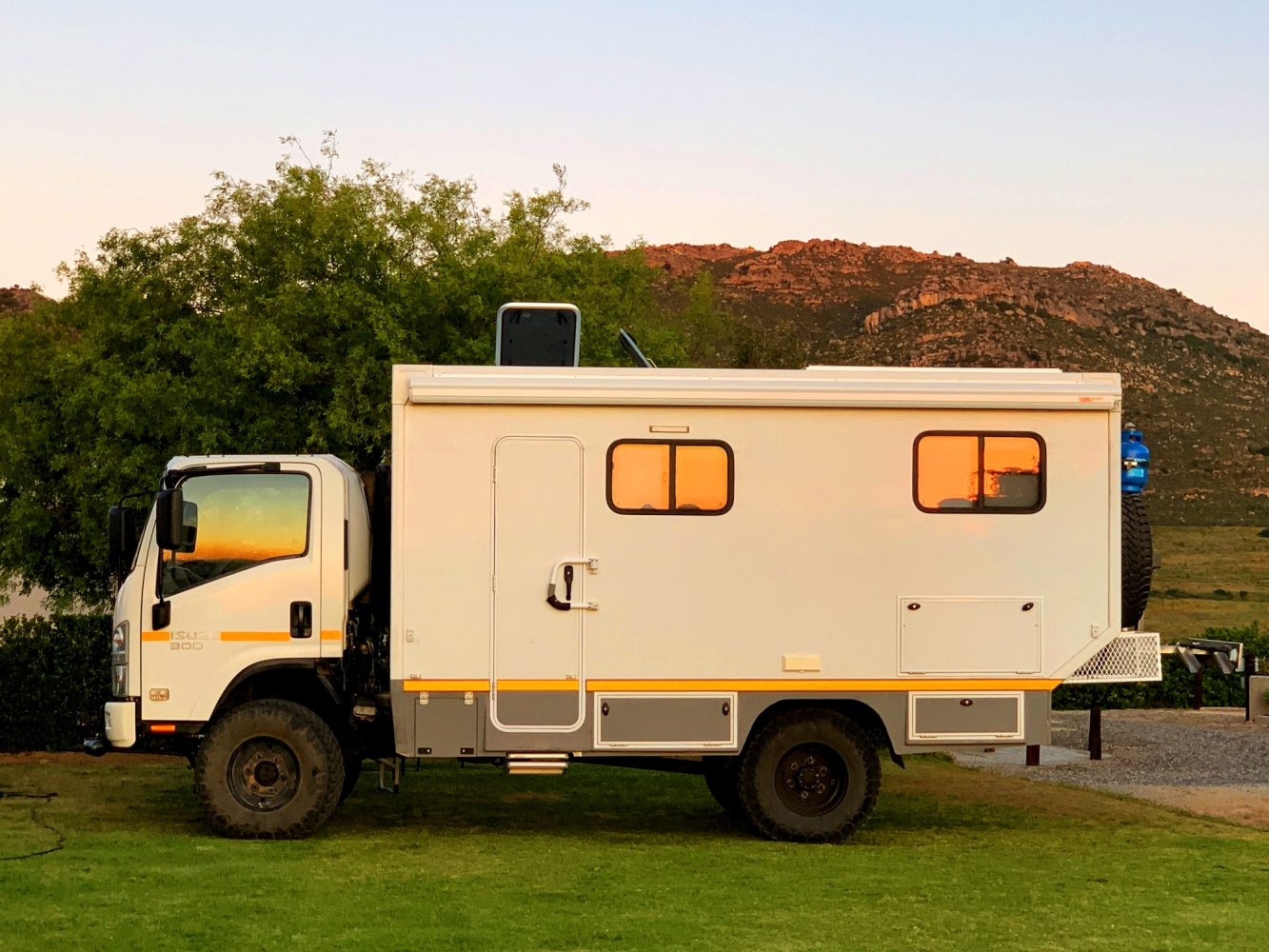 Do yourself a favour. Make a reservation, pack your tent and raid the pantry. Dust off the ammo boxes. When you've done all that grab a few T's, a pair of shorts and your favourite flip flops. Don't forget last year's stretched and perished bather. It will do. Believe me. Now, head off to the Kgalagadi. Don't forget the sunscreen, it's bloody hot there. The Kgalagadi is the nearest SANPark with, to Butch's mind, proper wildlife, to the Western Cape. A destination that actually feels like you're in the wild.
The tricky part in all this is making the reservation. It takes time and discipline. After registering myself on the SANParks website, I took up any available sites at any of the campsites, for the planned number of days we were intending being there. With my foot in the door, I then returned every night at 3 am to tweak, swop and cancel my original reservations until I had what we were looking for. The whole exercise took two weeks of dogged determination. No agent anywhere will do that for you believe you me. We eventually spent 10 nights at Nossob, 2 nights at Mata-Mata and one night at Twee Rivieren, but more about that in a blog to come.
Payment is by credit card, cancellations are not transferable. In the process, I had accumulated a tidy sum of credits which had to be refunded. Unfortunately, SANParks does not have an automatic debit system. Clients have to phone in and enquire about a credit, the call centre assistant will then set the ball rolling. Emails to the booking office are rarely replied to but, have faith, once you've submitted your banking details, not credit card details, the wheels of bureaucracy start turning. Keep in mind, many clients are waiting in line. I received a WhatsApp from my bank confirming my credit payment on the very day we entered the Park. The system works slowly but surely in an age when we all expect instant gratification.

Covid19 safety rules apply from the moment travellers enter the Park. Masks are obligatory. Temperatures are taken, forms are filled in, hands are sanitised, and social distancing is adhered to. Park staff are well trained and stick to the rules.
Like all holidays, planning is half the fun, and as I sit typing, I'm reminded it'll be summer holidays soon, and already the excitement is palpable… for me anyway. I love travelling. Making reservations, plotting our route, setting up our iOverlander GPS, flipping through pages of old travel magazines and asking for recommendations on Social Media all add to the anticipation.
We set off a day early and spent our first night on top of the Piekenierskloof pass at the iconic Kardoesie. The skies turned bright pink at sunset, turning the landscape a shimmering golden colour highlighting the ripening wheat fields. With our small table and chairs out, we sipped our drinks while Butch fired up the braai, using the bushel of complimentary wood. Boerie rolls and tomato smoor (Hotdogs with a traditional fresh tomato sauce). All the amenities are excellent, and we loved our short stay.
Giving ourselves a head start early the next morning, we set off and had a farm-style breakfast in the delightful Northern Cape village of Calvinia. Hantam house is an experience. The shop has a range of fresh and homemade products and curios. The cluttered Museum jam-packed with memorabilia and for the curious a range of Cupie dolls to scare the bejeezus out of anyone… I found the rambling rooms fascinating. We enjoyed our breakfast in the quaint courtyard under a cool vine.
A second tour through the spread-out building appeased my interest, and we headed off at a brisk pace, with me at the wheel of the Honey Badger. I will certainly visit Calvinia again, and we did on our return journey. But, I'm going to coax Butch into taking me to the Vleis Fees, I have some exploring to do there. Calvinia also boasts the country's tallest and largest post box. Yes, indeed, it does.

Soon we settled into a comfortable clip. The speedometer was touching 100kmph when we were flagged down and pulled over by a bevvy of masked traffic officers. I was delighted. No pre-empt from me, I waited until the officer asked me to produce my driver's license. I produced it with a flourish. The officer wasn't as impressed as I was and debated whether we should have an additional Public Transport license(PDP). Butch soon corrected her with the facts of the law. After a thorough inspection of the Government Gazette, she reluctantly waved us off.
The veld north of Calvinia was still awash in brightest pink fygies with swathes of colour covering the slopes. We were astonished by this unexpected display so late in October.
Seven hours of driving in a truck takes its toll on every muscle. We've made a pact that our driving time would be 6-8 hours per day. My neck had a nasty crick in it, and I couldn't be more thrilled when we turned off just before the new bridge and stopped at Ikaia River Lodge on the Orange River in Keimoes for the night. Here we met up with our travelling companions, cooled down and had an early supper in the restaurant. The menu's predictable but enjoyable. Guests are allocated individual shower rooms, during these uncertain times with Covid19 we felt safe while using our private facilities. Camping on an embankment has its downside, mosquitoes galore. They attacked and sucked us dry. Fortunately, we do have a Peaceful sleep vaporiser which was switched on pronto.
A road trip is never successful without a tuck box loaded with treats. Butch had done his homework well. He'd pre-ordered some biltong and droeë wors (jerky and dried sausage) from the acclaimed Kalahari Vleishuis. We'll be placing our order again in March. Excellent product sold there. Butch has now gone from Oom Boets (in Worcester and some littlies who's favourite Oupa he is) to Butcher Robertson in Keimoes.
As the morning progressed, we started shedding our layers malting from winter into a Kalahari summer. The barometer read 36֠C before brunch with the mercury steadily rising. It was hot, and we were just coming out of a very cold and wet winter. I loved it. Brunch would be in Askam at Diamond T Gift and Coffee shop. They're famous for their Milk Tart, which we didn't have. An oasis in the Kalahari. A refreshing stop.
Red rolling dunes of the Kalahari were a signal to wind down the windows, switch the aircon off and take a deep breath of the desert air. The wheaty smell of dried grass filled our lungs. The hot, dry air scorching and in the distance a silver mirage on the hot tarmac. We were almost there.
It was still early afternoon when we pulled in at the Kgalagadi lodge only 5km from the main gate to Kgalagadi. In a jiffy, we set up our campsite and headed over a hot dune to the pool to rehydrate, read and quench our thirst. I did a few laps on the lilo and then got stuck into my latest Jo Nesbo titled Kingdom. On the table, a glass dripped cold condensation tempting me to wrap up and enjoy a very tall drink.

When a lively pack of small children started bombing us, we slinked off before the water turned green. After watching our first proper Kalahari sunset, we got ourselves ready for supper in the restaurant. The restaurant was chock-a-block full on a Friday night, reservations are required. I highly recommend this new lodge to all visitors to the Park.
Fanie Vlok, the manager, and acquaintance of Butch, regaled us with stories and adventures past. Butch was reminded of an amusing incident, when as young men they went galavanting to a hotel in the Karoo and Butch, the raconteur, kept them amused with his shenanigans.

Well before 6 o'clock the next morning, we joined the long queue of masked couples waiting to register and enter the Kgalagadi Transfrontier Park. Very slowly, we snaked our way to the Covid19 table to be vetted before being admitted. The staff in attendance were very efficient, friendly and well trained in dealing with clients entering the Park. Our first day would be a slow meander to Nossob where we'd spend 10 days camping.

Butch and I had to pinch ourselves. We were back in the wilds again. Well. Sort of. I was as happy as a dung beetle.

PLACES TO STAY OR CAMP
Kardoesie – make online reservations
https://www.kardoesie-n7.co.za/caravan-park-camping.php
Ikaia River Lodge Keimoes
https://www.ikaia.co.za/
Calvinia
https://www.kleinplasieguesthouse.co.za/
Kgalagadi Lodge
https://www.kgalagadi-lodge.co.za/accommodation.html
SANParks reservations
https://www.sanparks.org
Diamond T Gift and Coffee shop - Askam
https://www.facebook.com/Diamond-T-Coffee-and-Gift-Shop-195289620584390/
---