Feeling Like A Royal In Prince Albert
---
---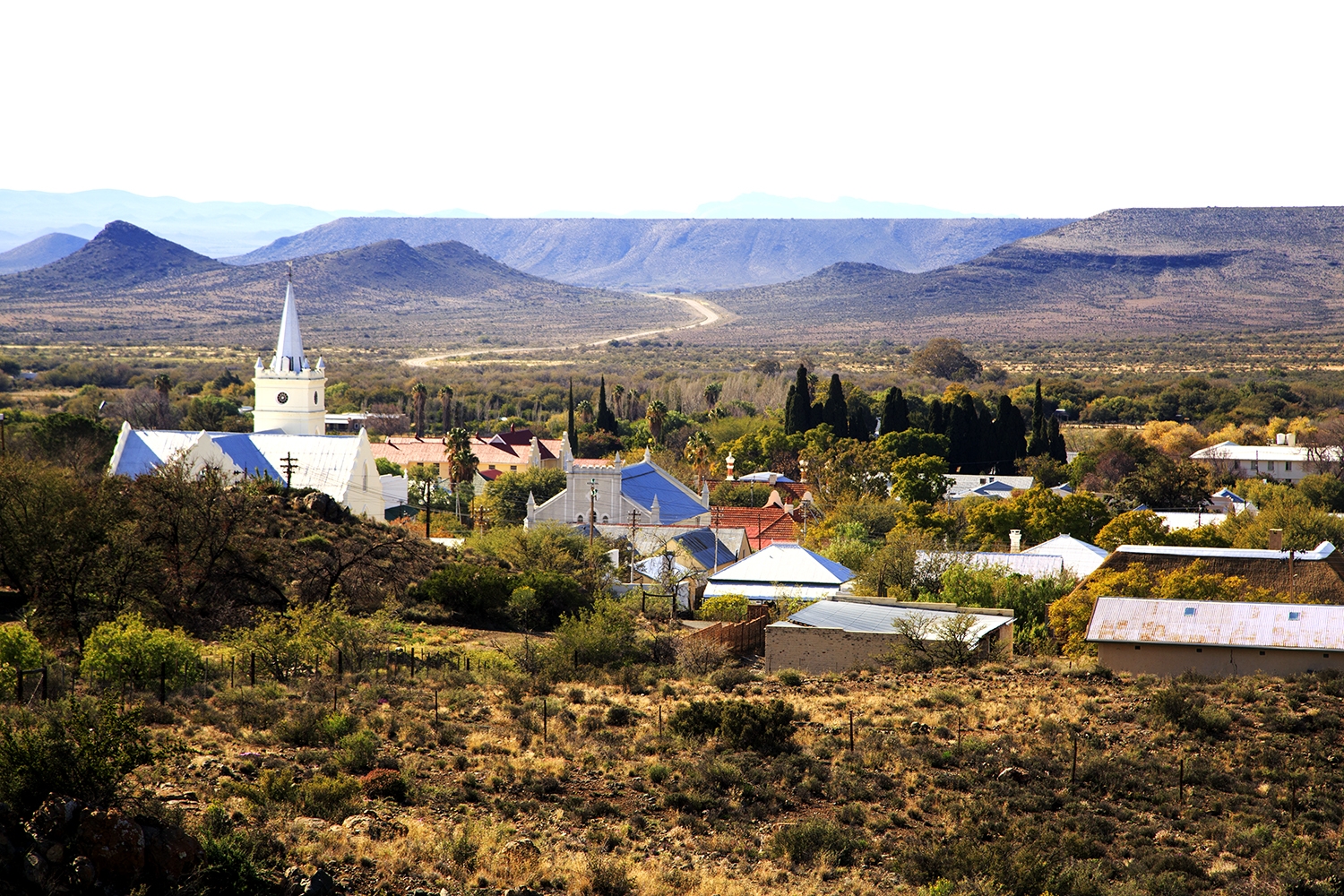 Before I lose my mind completely I must tell you about my very special visit to Prince Albert a few weekends ago. This is a Karoo town to look up. I love the authenticity of the place. Little cottages being renovated lovingly, there is a magnificent cinema the architecture pure Art Nouveau, in a pristine condition complete with disco balls, bar stools, glitzy buttoned lover's couches, velvet and more velvet everywhere.
If you're impulsive, always on the house hunt, enjoy the great outdoors, up for a challenge and have a yearning to get away from it all then be warned. Prince Albert has irresistible charm. It will not be long after arriving that you'll want to see an Estate Agent, become the mayor and settle into a life of peace and tranquility.
This is what happened to my friend. She's a lost cause now. Every waking moment is filled with her obsession with Prince Albert. She and a business partner bought a beautiful cottage, the one the Estate Agents would describe as "a little gem waiting to be polished for the tiara". As with most renovations this will take time, patience and fortitude.
Butch had hardly loaded his hunting rifle before we were off. He to another farm in the Karoo on their annual corporate hunt with clients and my friend, Molly, her Boxer, and I to do an inspection of works in Prince Albert.
We were on a road trip which meant we could make pit stops, we did so as soon as we'd passed through de Doorns. At the Farmstall we stopped and had a delicious chicken mayo sandwich, once watered and fed we hit the road and at a brisk pace headed into the Karoo.
Of course the weather forecast was all doom and gloom for the weekend. Weatherman Pete has got it wrong on numerous occasions this winter might I add. With my weekender packed with beanies, cardigans, coats, gloves and scarves we headed north. The weather was brilliant. Warm, sunny skies without a breath of wind. No sign of rain.
The only way to do a small hamlet is on foot which Molly and I did. Up into the hills we went. She had free reign and could go sniffing each bush at her leisure. I had my nose to the ground looking for insects, plants, sticks and stones and the occasional brightly jeweled flower or Namaqualand daisy just coming into bloom.
Prince Albert lacks nothing. There are plenty of eateries, good ones and mediocre ones; there is a suitable menu for any budget and one could go from Fine Dining to good, wholesome, homemade fare.
We enjoyed pancakes at the weekly locals market, browsed around the stalls, bought a book, some wonder ointment from a very smooth operator, who promised us eternal youth and then made our way to the art galleries.
There is no shortage of interesting shops and we popped in to admire beautiful mohair blankets, in a large room at the back one can still see weavers busy at their trade.
Avoova, an upmarket gallery showcasing beautiful artifacts made from wood, glass and mainly ostrich shell reworked and fashioned in exquisite objet d'art. For luxury African gifts do not miss this shop with the friendliest assistant. There are satelite stores in Cape Town, Franschoek, the V&A Waterfront and Johannesburg. I can see why.
Antiques always catch my eye and I saw plenty to draw my attention. Now I just admire the pieces I liked in my photograph albums. Space saving. I would love to pour our Earl Grey from that silver tea pot.. but, alas.
There were spaces I couldn't resist for the colour schemes, atmosphere and simplicity creating a tranquil environment perfect for a short respite. B&B's are plentiful and I'm sure Trip Advisor or AirBnB will have all the details.
Reservations are sometimes necessary to secure a good table at a restaurant, yet there's no need to reserve a seat at the cinema, we went and thoroughly enjoyed the experience. I do believe "The Darkest Hour" to be the best movie I've seen this year deserving all the accolades. We invited the tourist, an Australian, teaching primary school children in China, to join us for a nightcap at the Gin Bar adjoining the Hotel. Their selection of local Gins was excellent. He was interesting and we found his solo adventures fascinating to listen to. Here was a young guy who took up the challenge to forsake a weekend in Cape Town to spend it mooching around a quiet, quaint Karoo village. I wonder whether he took up our suggestion of doing Route 66 back to Cape Town.
Molly needed to get out and she loves driving in the car with the wind through her ears or perched on Bronny's shoulder. Prince Albert is the gateway to Die Hel and the magnificent Swartberg Pass. We did that letting Molly out for a tinkle near a huge ostrich farm.
On a previous visit to Prince Albert we camped and it has remained one of Butch's granddaughter's favourite outings with her Grandpa. She met lovely children splashing in the communal water channel (leiwater) while we wandered up and down the Main road admiring all the stalls at the Olive Festival.
The freedom children have in this small village struck me as very significant. It's still a safe place to be. In this small Karoo town there is a very strong sense of community amongst all its citizenry. Weekenders might give the town a financial boost but, they're not the main ingredient. Although on their guard children have the freedom to run, play, socialise and just be in an environment where they're lovingly nurtured. This made an impression on me once again and I salute the efforts being made by all the townspeople involved in keeping up this palpable community spirit.
Farming consists of Olive orchards, sheep and livestock, Ostriches, Mediterranean fruit e.g. figs, pomegranate and quince (a tree most Karoo gardens has). The produce can be bought, tasted and enjoyed at all the relevant shops and stalls.
Once your cottage has been restored and you've unpacked your boxes, done your decorating and settled into your puffy cushions I do believe you might put down roots and stay Bron. I'd love to return to attend a course at the African Relish cookery school, take a guided night tour and do an Olive tour. Plenty to look forward to. Prince Albert scores 100% in my books for its winter climate. At night its cold enough for a crackling fire in the hearth and during the day the sun shines, warming one out of long sleeves and spencers. Although our Mezze platters were delicious a large Farmhouse casserole would tick all the boxes too.
AVOOVA
tel: +27 (0)21 422 1620
---