Lemons Lavender and Limoncello
---
---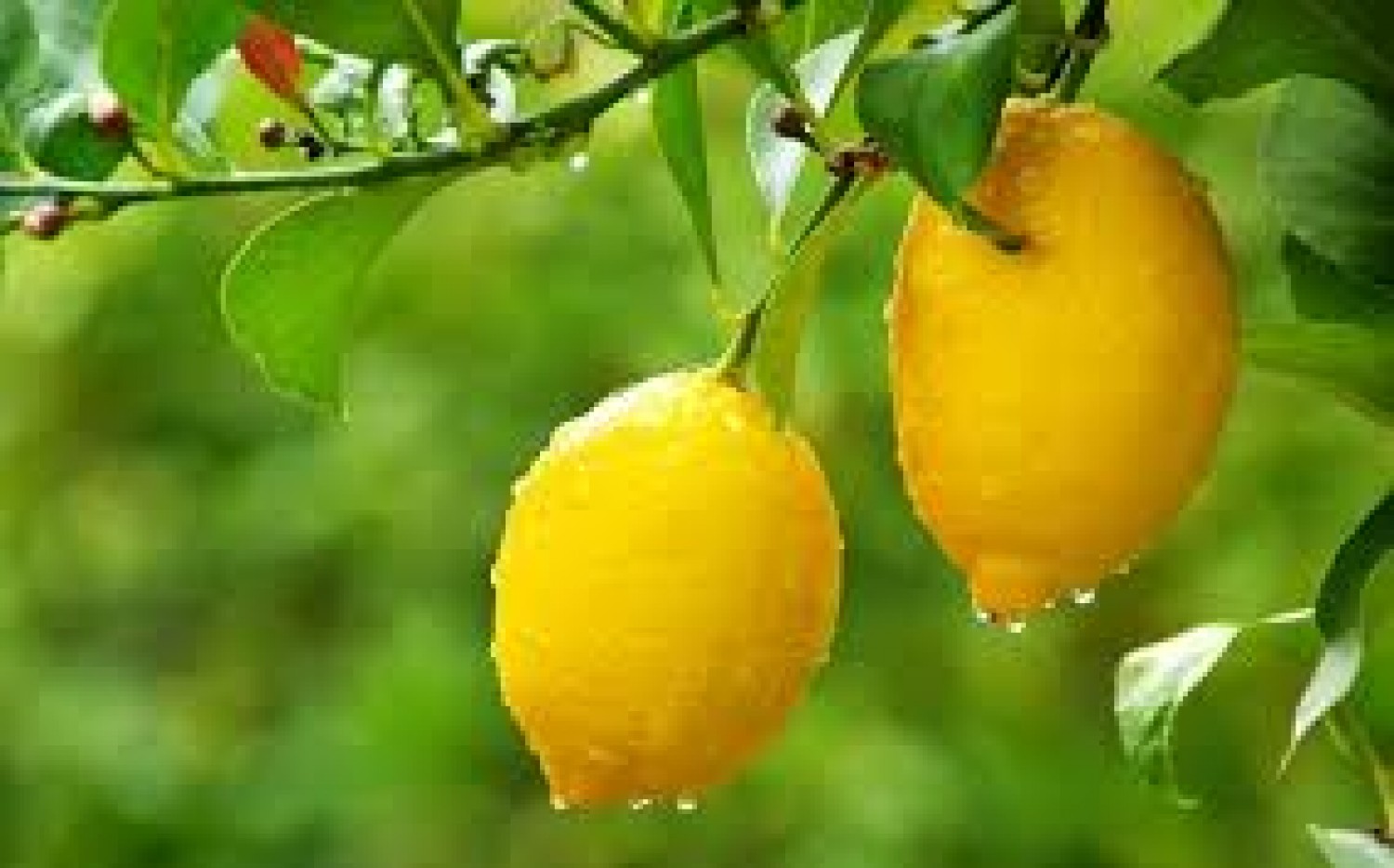 Lemons are abundant now. Juicy, tart and full of goodness only knows how many Vitamins (I know C) to ward off winter coughs and colds. I'll squeeze them, cut them, peel them, store them, preserve them and our house will be filled with that fresh, lemony sweetness. No garden should be without a lemon tree, we've even got two hopeless cases that we mollicoddle all year round, we've yet to have a crop but we're looking forward to the day!
PRESERVED LEMONS IN SALT
Ingredients
Fennel seeds
Coriander seeds
Cinnamon stick
Peppercorns
Bay Leaf
Sea salt
Large fat Lemons
Directions
In a bowl mix the spices into the sea salt. Cut a cross into the lemons -- almost to the base, but so that the quarters stay together. Push the seasoned salt into the lemon segments and pack the lemons as tightly as possible into an airtight jar. The less space there is between the lemons the more attractive it will look and you won't need to use so much salt. The lemons will be ready after one month of preserving, and will last for about 2 years.
Tips: The peel is edible This also works very well with limes. You could preserve oranges like this too -- but there are not so many recipes which use them You must use sea salt not table salt -- table salt is too chemical and harsh
Uses: For seasoning rice and couscous -- it works like salt and makes the rice and couscous lemon scented. Put chicken/fish into a foil bag and bake with the lemon salt. Use to season stews and soups
Recipe courtesy of Jamie Oliver
LEMON CORDIAL – Grandmama's recipe
2,5L juice
1,6kg sugar
Mix the ingredients. Pour into a large saucepan, using a wooden spoon stir the mixture until the sugar has dissolved. As soon as the liquid starts boiling remove from the heat. Cool down.
(it takes a while to start boiling as sugar needs a higher heat to reach boiling point, but do watch it, as it happens suddenly!)
Strain the liquid using a sieve and cheese cloth (or any other fine fabric) Decant into bottles, cork and seal.
Use 1/3 cordial to 2/3 water, add ice. Cordial may be used immediately. Keep refrigerated.
Garnish with sliced lemon, mint, lemon verbena or other lemony herb leaves.
LIMONCELLO – Lolli's recipe
10 lemons, washed and scrubbed
1 litre of Vodka
750ml sugar
1 litre of water
METHOD:
Zest lemons and place in a large bottle or jar. Cover with the Vodka, zest must float loosely and allow to infuse for 1 week at room temperature)
After one week combine sugar and water in medium saucepan. Stir over a low heat until the sugar dissolves.
Bring to the boil. DO NOT STIR (may crystallise). Boil for 15 minutes.
Allow to cool.
When at room temperature add the vodka mixture to the syrup.
Strain and pour into glass bottles, cork and seal each bottle.
Let the concoction age for about 2 weeks at room temperature
Store in a dark cupboard.
Place bottled liqueur in freezer and serve when icy cold.
LEMON AND POPPYSEED CAKE
(A recipe I've often used especially enjoyed by the Bridge ladies)
250g butter
350ml caster sugar
3 extra large eggs
2 lemons, zested
450ml cake flour
10ml baking powder
2ml salt
60ml water
45ml lemon juice
80ml poppy seeds
LEMON SYRUP
250ml sugar
125ml water
125ml lemon juice
CREAM CHEESE ICING:
110g butter
700ml icing sugar
100g smooth cream cheese
Poppy seeds for garnishing
Lemon zest for garnishing
Pre-heat the oven to 190°C.
Grease 24cm ring pan with butter or Cook and Spray
Beat butter and sugar together until light and fluffy
Add the eggs one by one beating well after each addition
Fold in the lemon rind
Sieve the flour, baking powder and salt together twice.
In a small jug mix the lemon juice and water together
Fold the flour and lemon water into the egg mixture, do it in batches not all at once.
Lightly fold in the poppy seeds
Pour into the prepared ring pan and bake for 35-45 minutes until a needle can be inserted and removed without any cake mixture clinging
SYRUP: stir all the syrup ingredients together until the sugar has dissolved, heat slowly to boiling point. Pour gently over the hot cake. And allow cake to cool in the pan.
CREAM CHEESE ICING:
Cream the butter until creamy.
Gradually add the icing sugar a spoonful at a time, beating well after each addition.
Fold the cream cheese into the butter mixture.
Using a palette knife spread the icing over the cooled cake.
Garnish with poppy seeds and a few lemon zest tendrils.
LEMON AND LAVENDER ICE CREAM
I'll be making this ice cream for dessert today
Yield: 1 litre
Ingredients
3/4 cups granulated sugar
2 lemons, zested
1/2 cup fresh lavender or 1/4 cup dried lavender
2 cups whole milk
2 cups heavy cream
8 egg yolks
12 thin slices fresh lemon
12 small sprigs fresh lavender
Directions
In a saucepan, combine lemon zest, lavender, milk, and cream.
Bring to a boil. Steep for 20 minutes. Strain.
Whisk the egg yolks and sugar together.
Whisk 1 cup of the hot cream into the egg mixture. Mix thoroughly.
In a steady stream, slowly add the egg mixture to the hot cream mixture.
Add a few lemon zest tendrils to the Creme Anglaise and the lavendar florets from two flowers for colour and taste.
Continue to cook for 4 minutes, over a low heat, stirring often.
Do not allow the creme Anglaise to boil as it will curdle, the mixture must just coat the back of a wooden spoon.
Remove from the heat and cool completely.
Place a sheet of baking paper over the top of the custard to stop a skin forming.
Strain the mixture.
Add the mixture to the electric ice cream maker.
Process according to manufacturers' directions.
TO SERVE:
Serve Quenelles of Lemon and Lavender Ice cream, garnished with a slice of lemon and a lavender floret.
This dessert will compliment any Citrus flavoured dessert.
Lemons from:
Stettyn Estates
Worcester
If you've enjoyed this blog and would like a weekly reminder please just "SUBSCRIBE" i'd be really tickled pink!
---