Miserably Morose on a Monday
---
---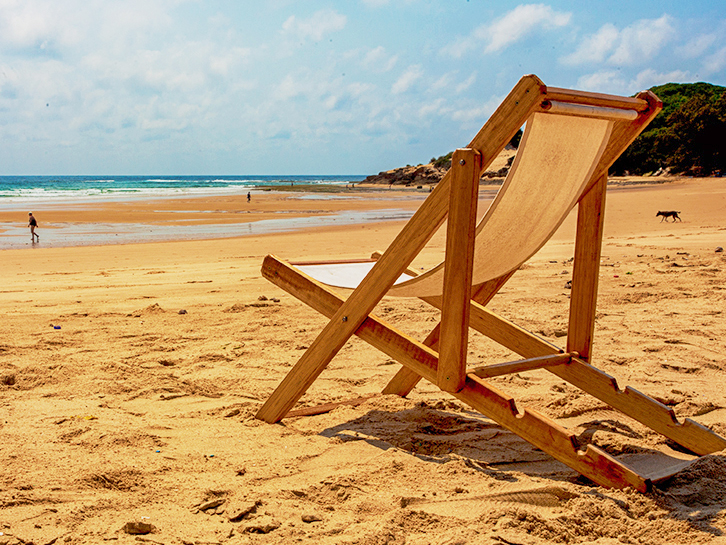 It's no use, no-one can dodge this bullet any longer, it's back to the Spinning Class this afternoon, the scales don't lie, we can count calories until the cows come home, nope, it's time to add some strenuous exercises to the game plan! I wonder if jaw wiring is still an option?
I still see those huge barrel waves crashing down onto the rocks as the Terns circle before coming in to land; one can almost feel their anxiety as they wait for the waves to withdraw. There are two black Oystercatchers too, that's one for the books and so thrilling to know they're back. There're more homes with shutters closed and curtains drawn, the colourful lights are fewer too, only the blue and red security lights light up the deserted streets. It's time for the locals to show their faces again, walk their dogs, dust off their vintage picnic baskets and have sundowners on checked blankets on the seawall. It was champagne cocktail time for us on Friday evening, celebrating the recent marriage of a friend. Canapés to wow a crowd, reminding me once again to bring out the blender for a perfect Gazpacho, maybe this time it's going to be green.
My fading tan is a reminder of the swiftness of passing weeks. While we enjoyed fabulous fresh whole Norwegian Salmon on Saturday evening, done to perfection by my Precious I recalled our dining experiences in Onrus and Hermanus. Some were excellent others disappointing.
If this were a headline, it would read as follows:
"Disappointed dikbek (sulky) diner slumped over a greasy spoon at Milkwood Restaurant in Onrus."
Loaded with confidence that we were going to have a gorgeous evening, I even took the celebratory bottle of red wine from the Luberon Valley; I had a problem finding it in it's "safe" place. This would be our special evening under the stars with the phosphorescent waves crashing on the shore, a celebration of a wonderful summer holiday with my children.
Sometimes one has all the ingredients for success but still disappointment looms. I should've known we were in for a disaster when I made the reservation. It was a brilliant blue balmy day on the beach, which inspired us to dine at The Milkwood Restaurant because it has the best view and we're locals. The afternoon waiter took all our details, but, wrote it down on his personal pad, first mistake, he probably forgot to fill in the reservation book, or knew the establishment was full, who knows.
On arrival at our appointed hour, we stepped in and that's when I knew this wasn't going to auger well, the charming owner had no clue about our reservation and had to "check" with Maitre D. Eventually we were seated.
With a grand flourish the waiter arrived, asked us to not waste time, giving us and the kitchen a once over, rolling his eyes to imply a very busy kitchen. We were not shown or told about the black board menu.
On the whole a rather unpleasant evening, the quiche my daughter-in-law had was dry, unappealing and a tad tired. I always enjoy Pork belly, if memory serves I wasn't served the suggested sauce, it was fatty and I surmise the last of the night's portion. I fiddled around with it. We ordered desserts Crème Brulee for the kids, a disappointment, they remembered the prize-winning delights of two years ago and this was a far cry. My Pannacotta was unmemorable.
It's always sad to have a bad experience especially from someone who had potential. Will we go back? Hmm, never is a long time, we'll have to see.
It was like throwing pearls to swine opening that gorgeous red wine, we may as well have had any old plonk, shows you, I must never rise above my station you might say. To add insult to injury, our wine glasses were smudged by greasy fingers, when we pointed this out to the waiter he shrugged it off and didn't even have the nerve to apologise!
Eating Humble Pie
Whenever things don't turn out quite as I'd expect my father would say, "Best thing to do would be to eat humble pie". Apologising isn't easy, neither is eating humble pie, like eating dry bread; it gets stuck in ones throat.
Last weekend we decided to have supper at Lizette's that very well situated restaurant in Hermanus, at the circle going to Voëlklip, arguably one of the best locations in town, here not feet come past but all the tyres going to Voelklip, Standford, Gansbaai, Kleinbaai and onwards.
This urban chic restaurant was buzzing on a Sunday night, it was perfect evening and many diners were sitting on the wide veranda enjoying their sundowners and dinner.
One of the reasons for our visit was to try the Vietnamese options as a friend was posting mouth-watering Hanoi street food photographs on The Book, we were salivating and very envious
Lizette was on hand to explain the various options to us, making suggestions, describing the dishes and how to assemble those using condiments to flavour our selections according to our palates. This is a great way of introducing clients to foreign cuisines so that they can make informed choices.
We ordered Dim Sum and Spring Rolls for starters which we shared with our guests. Our selection for the main course was delicious and I found it hard to share my Bun Cha. Desserts are always the highlight of my meal and I loved the Asian Sago Pudding, not too rich but fruity, smooth and velvety!
Lizette we really enjoyed our visit, we loved the way you downed tools in a very busy kitchen to spend time with us and we'll certainly be back! My yen for a Vietnamese style supper was satisfied. I'm a little less green too knowing my friend is back from Vietnam sitting in a cold office in London. How the worm turns.
There's a very nice take-away menu too!
Shack-rattle-and-roll
Of course there's a bright side to all this, The Beach Shack, on the Lagoon in Onrus, has also changed ownership and this I can confidently say is a success story. The general air about the place is upbeat, clean, fresh and the menu great. Fish and chips are still served on grease-proof paper, the American Pancake stack with blueberries and Mascapone is to die for and I indulged twice! This is a favourite spot with young and old, kids can buy lollipops, ices and ice creams all day while Mums lie on the beach sunning themselves like lizards. Do not change your winning recipe it's a delight sitting on your deck watching children and parents frolicking in the lagoon.
Lunch with my favourite girl
Sweetening the blow as far as culinary misadventures went we had a very enjoyable return to The Burgundy Restaurant in Hermanus, they certainly know how to consistently please their diners. On a fine day dining under the huge cork tree is a pleasure, our favourite girl Sophie T'blanche never disappoints either, for those uninformed few, she's the most willing, unpretentious most popular girl in South Africa, in the Western Cape she's a legend. Crisp, dry, slightly complex the perfect companion on a summers day. My favourite Sauvignon Blanc. We all opted for the Calamari, delicious, crispy and a crowd pleaser. Desserts are delectable and any one will do. Here one can do breakfast, lunch and dinner, if you're into people watching and long visits. The menu is comprehensive, the food delicious, and the new management excellent. I'm sure many summer visitors are slightly mad they're missing out!
The Burgundy Restaurant
cnr Marine Drive & Harbour Road

,

Hermanus

7200

,

South Africa
email: info@burgundyrestaurant.co.za
website: www.burgundyrestaurant.co.za
Lizette's Kitchen
20 8th Street

|

Voeklip

,

Hermanus

7200

,

South Africa
Reservations email: lizettesfom@gmail.com
Lizette email: lizettecrabtree@gmail.com
Milkwood Restaurant:
Beach Road | Onrus Beach, ONRUS 7201, South Africa
028 3161516
Email: milkwood@hermanus.co.za
EatOut's website will forward emails
Sophie T'blanche
is available at most retail stores countrywide at very affordable prices
Iona Wine Farm
General Enquiries
T. +27(0)28 284 9678
If you'd like to receive a weekly update of blogs simply add your name to the Subscription list by filling in your details. Everyone's doing it.
---