Rainbow River Lodge – Okavango River
---
---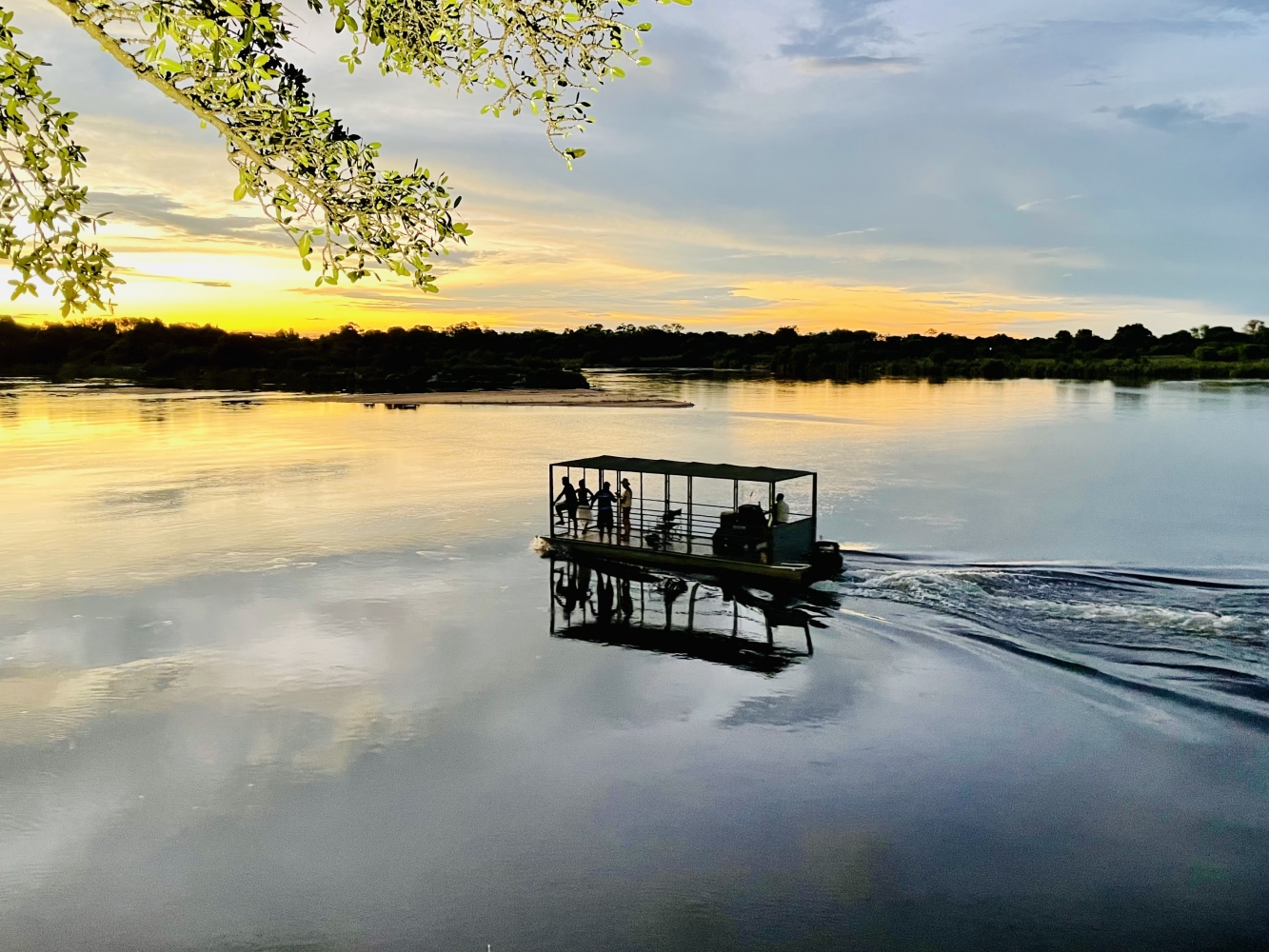 Long holidays with many rendezvous, campsites and parks will eventually fill my mental melting pot into one large soup of sights, sounds and smells. My photographs serve to awaken my memory as I click through my albums distinguishing one campsite, experience or adventure from another. Spicing the cauldron would be the misadventures and faux pas.
The very first photograph graphically reminded me of our snake encounters. A Rinkals in the bar catapulted my tired legs into action as I leapt onto the picnic table and jigged about, unlike any exotic dancer. Guests were in a tizz, drinks went flying while the poor Rinkals tried to slither his way beneath the Coke fridge. Cleaners, gardeners and the barman all went for various tools in an attempt to corner the snake. Eventually, the snake was safely disposed of. I quake at the sight/thought of the Schnakes.
Another vivid memory of our stay at the Rainbow River Lodge was the kindness and hospitality of strangers. We were welcomed and invited to participate in all activities and joined groups for braais, sunset cruises and sundowners on the deck. Nothing happened without us being aware or included. That's very rare.
Butch, my precious, did step out of the Badger on the wrong foot by making a boo-boo when he expressed his thoughts out loud when a guest, and frequent visitor, was walking her Yorkie who decided to squat on our patch of lawn. Not realising the pooch's "Mummy" was within earshot when he wondered whether the evidence would be scooped, bagged and disposed of.
Fortunately, we're all very civilized. With ice cubes tinkling and a pink sun setting, we were introduced while sipping Tanqueray's from frosted glasses. Butch manned up, apologised for his slip of the tongue and made up. A very snooty Pooch glared at him safely tucked away in a pink Gucci sling bag.
Rainbow River Lodge is located on the banks of the Kavango River in the Kavango- Zambezi Region, north- eastern Namibia in a sub-tropical summer rainfall area – a Garden of Eden in Namibia.
That's why I should've foreseen the possibility of close encounters with snakes. The next morning while watching a lazy makkoro gliding downstream cupping my mug of steaming coffee I noticed, in my peripherals, a slight movement of leaves in a nearby bush. Odd I thought, there was no wind. Focusing brought a green snake into view. All green snakes are Mambas in my books.
A blood curdling "Mam-baaa" escaped me. Butch came crashing through the shrubbery to rescue me upon hearing my cries. "There are no green mambas in Namibia!" he admonished. "Just calm down!" I did. But not before I retorted "well what the heck is this bloody green thing then? Huh?" my voice going up an octave.
There we were flummoxed. What was this green snake? Its mouth was black. The manager and snake expert was stumped. We juggled two names Green Mamba and Angolan Green Snake. Enquiries Butch made on our return home indicate that it was indeed an Angolan Green Snake.
The lodge offers guests comfortable accommodation at affordable prices. Guests can camp on the embankment or stay in one of the 22 en- suite chalets. All chalets are equipped with mosquito nets, and fans. There are 7 Superior chalets. overlooking the Kavango River.
Each of the 11 riverside campsites are situated on green lawns nestled amongst huge shady trees. Each campsite has a braai area, fitted with electrical outlets. There are 4 ablution blocks with hot water and electricity. A word of caution: do not be alarmed by the ginormous crocodile, lying in wait, in the lady's ablutions. Although very lifelike, it's a fake! I confess I almost leapt over the creature's head when I first spotted her.
Free wifi can be enjoyed at the restaurant and bar where we enjoyed a few bites to eat while watching dramatic sunsets. During the day Butch and I wallowed in the pool or read and napped lazily on a deck chair.
Butch and I declined an invitation to visit the Mahango or Buffalo Parks preferring to do solo bird watching. Our tick list was growing steadily and we were eager to capture some of the 339 species in the area. At night we'd listen to the hippos belching and calling up stream. They certainly are fascinating animals.
Rainbow River Lodge is very close to the Popa Falls with excellent cycling routes. We were enjoying our morning cycles and looked forward to exploring the area around us visiting local villages, shabeens and Lodges en route. The Lodge is a popular venue for Tiger fishing - guests can charter boats with guides who'll take them to the best spots. Everyone from young to old, male or female, with a competitive spirit drop a line into the water hoping to catch the biggest Tiger fish.
We spent three pleasant nights at Rainbow River Lodge where guests can be assured of always receiving warm, friendly and true Namibian hospitality during their stay.
Contact:
Land line: +264 66 259 067 Office: +264 81 210 6678
Deon: +264 81 124 2633
General Enquiries:
Email:
rainbow@mweb.com.na
Physical Address:
Rainbow River Lodge Divundu,
Divundu Township,
Caprivi-East,
GPS Coordinates: 18.1114° S, 21.5914° E
"A bright emerald green snake that often has dark markings and some light speckling between the scales. It is a stocky snake that averages 1 m but may exceed 1.2 m in length. Like the other green snakes it is active during the day, a skilful climber and often associated with reed beds and vegetation along rivers and vleis. It swims well and feeds on frogs, nestling birds and lizards, especially chameleons. It is fond of basking and will inflate its neck, exposing the black markings between the scales, if disturbed.

Often confused with a Green Mamba but the Angola Green Snake is harmless."
---