Schatzie Goes Hands, Knees And Bump-Sa-Daisy
---
---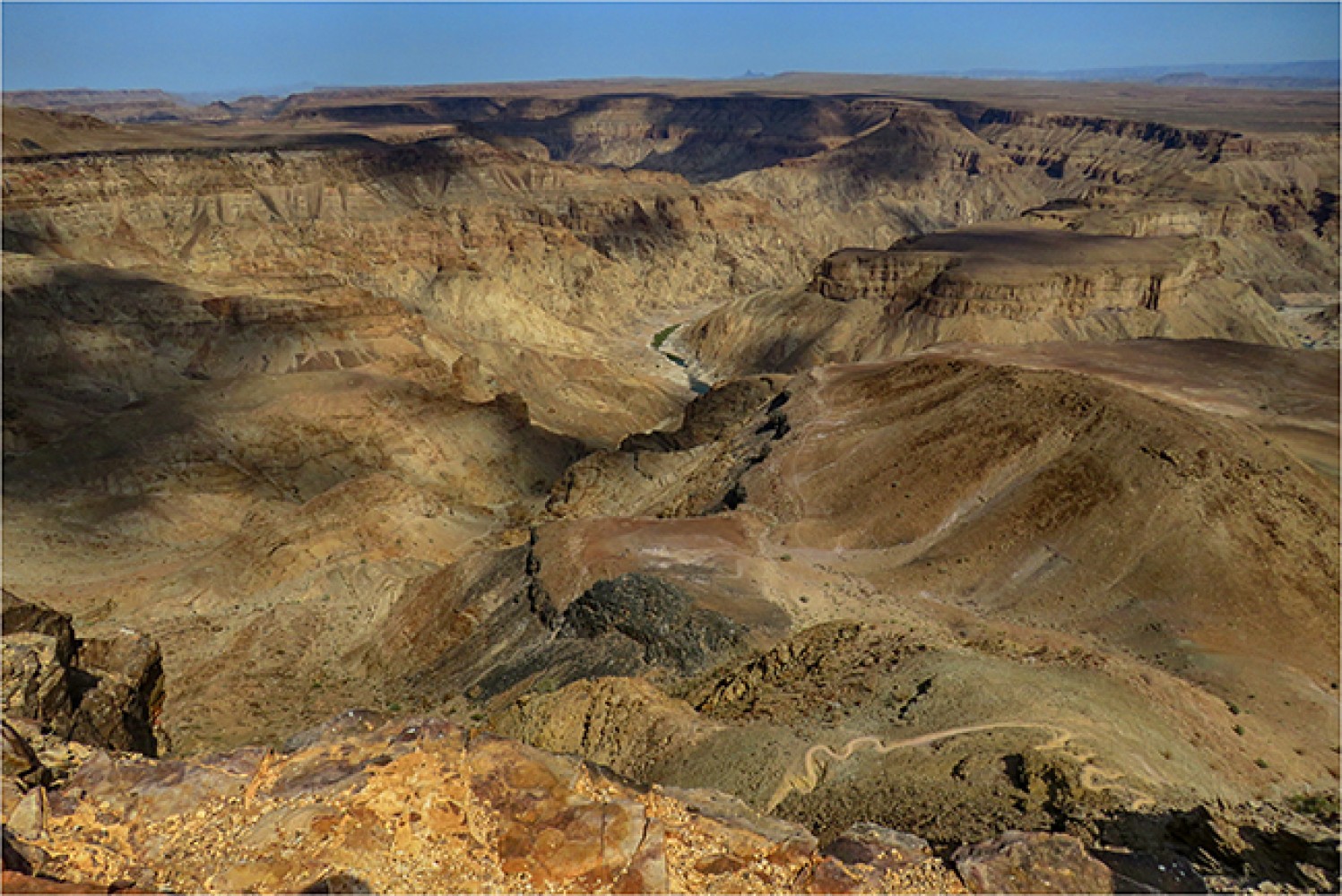 That's exactly how I made my descent into the Fish River Canyon. Slowly, measured steps and oftentimes on my behind. I had no dignity as I squatted to slide down rocks. When did my legs shorten? It was after 55. The audience looking down must've rolled their eyes while they whispered tut-tuts behind cupped hands sniggering sympathetically. I wasn't oozing confidence. But believe me, they were all wrong. I did it, and what's more, my time wasn't too shabby either.
Slate, shale, boulders, granite rocks and gneiss bedrock, thick sand, course gravel and fine, powdery stretchy beaches have to be negotiated for 88km after the gruelling 2km descent. Game trails are misleading and the sparse vegetation offers little relief from the relentless Namibian sun.
Oh how I loved it! On the rocks I was as slow as a pack-horse, tapping blindly with my walking stick hoping neither of us gets stuck in the grooves and crevasses. The balancing-act doesn't come naturally to me (too many bouts of ear-ache as a child and pathetic core muscles), so I rolled, wobbled and stumbled along always keeping my eyes on my feet and my peripheral vision on the sand beyond, my beacon in the dark.
The sand had its challenges too; heavy, unrelenting and hard on our calves, it pummelled our muscles until we wished for boulders again. Once on terra firma though we could get our swing back, lengthen our strides and get into our natural rhythm. What's more, with every step we got fitter, abler and more adept with the conditions.
On day 2 we wallowed in the hot water at Palm Springs, but, when the small fish starting nibbling on my legs, exfoliating them, I shot up and out. For the record I am a shrinking violet. We picnicked, rinsed our undergarments and socks, while sunbathing on the warm rocks like lazy lizards.
Dave was entertained and bewitched by the Olive Thrush who'd fallen in love with his boot. During the day we saw Sacred Ibis, Swifts and Starlings who have become accustomed to morsels left by hikers. We salvaged the first of three barbeque grills (braai roosters) left behind by previous hikers.
After a rejuvenating siesta at the springs we pressed on and made camp along the banks of a large pool. We were rewarded with a visit by three wild horses, a mare, colt and stallion. As the sun set golden we watched them languidly crossing the river to graze. As the full moon rose bright as day we chatted and laughed telling tall stories around the campfire, later we'd quieten down, sip coffee and listen to fish jump as the wind came up and temperatures dropped.
By day 3 Heidi was hiking as she did before her skiing accident and consequent hip dilemma, this girl can walk! Our bodies were adapting and we made good progress as the terrain changed around every corner and the hard gravel paths became kinder. We had an audience at breakfast, a large troupe of baboons kept a close watch on us, sentinels were strategically placed as the family groomed themselves.
With a wrong foot and a string of bad luck Tweet landed on her nose. Fortunately, no broken bones, just a bruised thigh, things were going so well. On closer inspection I discovered two pressure blisters between my baby toes. Sadly, my camera batteries only made it to sunset, no more photography for me. So disappointed.
Besides changing into clean underwear and socks I was still sporting my original shorts, T Shirt and strappy top. I was not bothered at all. Earthy. My meagre possessions lay snugly next to me at night, I was hardly able to lose anything and at the drop of a hat I could locate whatever I needed. I decided to hang my small cup on the outside of my bag, it jingled as I walked, hop, skipped and jumped. To catch up with Mariclaire's early morning start I resorted to stuffing my sleeping bag, ground sheet and liner haphazardly into my knapsack, sitting on top to squash it all down before zipping up. I speeded up. My laces were hanging by a thread and I didn't have replacements. They were new. Damn. My boots will forever be my best friends.
Day 4 – my favourite day. We covered a good distance and passed the 50km mark and took a shortcut. At breakfast two groups of hikers passed us while we enjoyed our breakfast, we were perplexed by the flag they carried, but they were young and restless, fast and furious. Anton and his children also marched by at a brisk pace, looking glamorous, fresh and fit, but we'd encounter them later as they would take a wrong turn and have to double back. We saw the skeleton of a Kudu, spotted a Cormorant and a friendly Wagtail. On a sandy dune we saw the fascinating spoor of two water monitors and after sunset we heard the yelp of a jackal.
After reading all about the Von Trotha's Grave we paid our respects. Second Lieutenant Thilo von Trotha, a nephew of the well-known Lieutenant General Lothar von Trotha, died here in 1905 during a confrontation between German soldiers and native Nama's. He must be fascinated by all the attention he gets more than a century after his death he's still remembered so fondly.
Along a wide stretch of sandy beach we made our final camp on Long Lake. My toes were in a sorry state, but nothing a little TLC couldn't sort out, I had the equipment after all. To loosen our weary muscles Tweet, Mariclaire and I indulged in a short "yoga" romp, we should've done it sooner. Stretching certainly loosened my muscles from my fingertips all the way down my spine, legs and weary toes. We stretched and reached for the stars, galaxies and Milky Way! A lone Fish Eagle circled and called his lonely cry as he threw his head back and flew to another cliff. In a circle we sat and watched Chef prepare another delicious pot, we were truly spoilt as we tucked into another one of Mariclaire's original culinary masterpieces.
Our 5th day promised to be short and sweet. A 5 hour hike back to Ai-Ais. The day was perfect as we hitched our backpacks and set off while the morning was cool. After a relaxing breakfast we negotiated the last tiresome river stones and boulders. As predicted the wind came up at lunch time. To escape a sandy lunch snack we sat ourselves down on some large, flat boulders right in the centre of the dry riverbed. We snacked on all our left-over bits and pieces making the most of our last meal.
We arrived at Ai-Ais exhausted yet thrilled. With gusto we rang the brass bell to announce ourselves before we hurled ourselves at the overwhelmed bartender to order rounds of beer.
OUR EXTRAORDINARY DINNER MENUS:
Supper would be a one pot dish (Dave carried the pot) with a basic recipe of sautéed onion and garlic in olive oil. A carb would be added with an assortment of pre-packed sauces, a protein and stock. 4 hikers each carried a 1kg bag of rations, while some shared utensils or charcoal.
Day 1. Chicken Pilaf – rice, smoked chicken breast, seasoning and basil pesto
Day 2. Porcini with Polenta – porcini, chorizo, mushroom sauces, polenta and fresh water
Day 3. Pasta with Bolognaise sauce – pasta screws, bacon, bolognaise sauce, mushroom sauce, water.
Day 4. Moroccan couscous – Moroccan couscous, chorizo sausage, sundried tomato, water.
Desserts: yes we had those too Lindt chocolates and Sally Williams Nutty Nougat.
MY DAYPACK:
(All ingredients were carefully weighed and measured into daily portions, keeping in mind that I would carry the load in a small cool bag)
Biltong, droewors (dried sausage and jerky)
Cream cheese and individually wrapped Gouda cheeses
Cucumber, celery (on the bulb lasts for ages), carrot sticks, small red and yellow bell peppers, I cut my vegies and made Subs, delicious.
2x John West flaked tuna – Vinaigrette and Thai dressing
Mini Salami's (Woolworths)
Nuts and seed packs (breakfast)
Dried fruit bars (mid-morning), Energy bars (mid-afternoon)
Wine Gums and Enerjellies (small packets rationed daily)
Game – powdered energy drink – Naartjie flavour (I had 4 packs could've done with 5)
Nescafe Cuppachino sachet – 10 (should've had a few more)
Nomu Hot Chocolate sachet – 2 (next time will have more)
To prevent cramps I used a daily dose of Slow Mag which also flavoured my first water bottle.
(TEA – Herbal teas will be added next time, I didn't think I'd enjoy them, but Heidi kindly gave me a tea bag when my coffee ran out and I enjoyed it. Afterwards I dropped my used teabag into my water bottle which added a pleasant flavour.)
Pleasant Surprises:
The vast stretches of water
The abundant fish life
The majestic beauty of this wondrous, desolate canyon
Forbes Water Bottle with filter – worked like a charm, but, sprung a leak…
Quality of the drinking water – good especially if flavoured slightly! No runny tummies.
An abundance of wood for the pot and for coffee.
Glad I took: Sunscreen, notebook and pen, surfers' hat (contemplated using it's chin strap when my laces went), sunglasses, kikkoi.
(Bitter) Disappointments:
Litter left by previous hikers. They should be ashamed.
Scarce bird life
"Like-minded" hikers often have their own agendas.
"Conservation" can be interpreted in so many ways!
Too few camera batteries (next time I'll take 4)
How much disinformation people dole out so freely.
Should've taken my Voltaren Gel!
Last but not least: maintenance work is not a high priority, a pity, a number of chains, which are essential in the descent, are in disrepair and should, for everyone's safety, be repaired and regularly checked.
The Super Troopers:
Mariclaire: Veteran hiker, tour leader, organiser and Chef supreme – Where you go I'll follow
Dave: Tinker and Brew Master
Jill: Dave's partner in crime. Serene, composed and seasoned traveller
Peter: Videographer and Interrogator par excellence – our ear on the ground.
Heidi: sage, excruciatingly honest, a sharp mind and even sharper sense of humour. You rock Heidi
Tweet: like a bird she's colourful, clever, wise and the ultimate photographer and storyteller.
We had the time of our lives, sleeping under the stars was magnificent, how will I ever be happy with 4 or even 5 stars? Sharing stories and anecdotes with people I hardly knew, refreshing. I'll say it one last time; we were truly blessed! Should you ever have the opportunity or inclination to partake in such an adventure GO FOR IT!
P.S. Kitsel we thought of you and wherever possible we placed small stones on the cairns to honour your short but special life. RIP in cat heaven you've got 6 lives to go.
Here we are, the savvy seven, exhausted, thrilled, energised, thristy, dusty and ready for a dip in the pool.
P.S would love to know who OUTA is, they did the Canyon from Ai-Ais and left regular updates telling us the time they passed certain landmarks, they were hot-footing it through there. Interesting.
---