Searching For Magic Mushrooms - Hogsback - Eastern Cape Province
---
---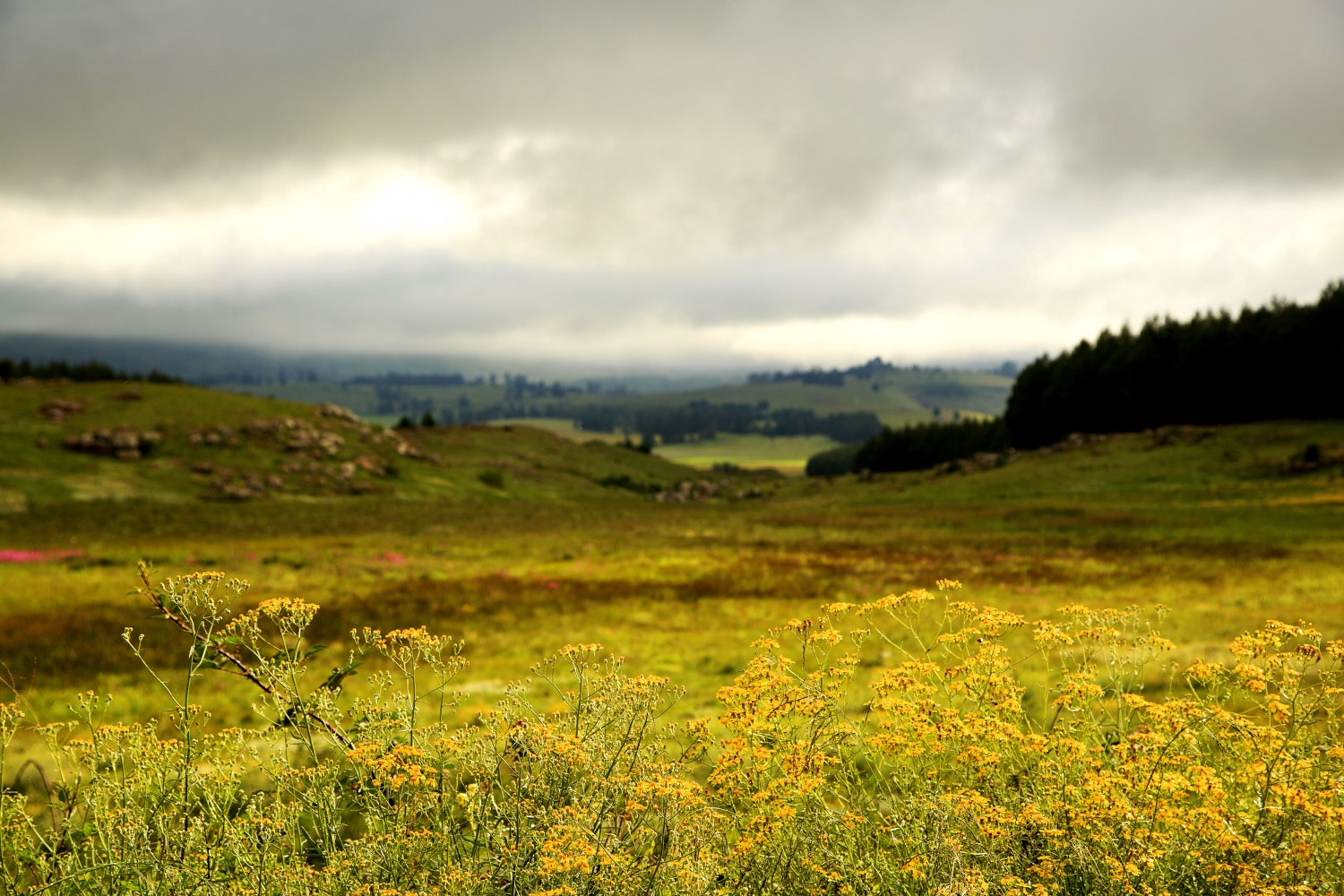 My Grandmama told me about the Hogsback. In the early 1930's she'd haul my aunt, my Dad, a French nanny and a German wet nurse, by train from Cape Town and steam off during the hot summer months to sojourn in the cool, misty Eastern Cape Amatole mountains. In tow, her best friend, Margie Foot. They'd horseback ride, hike in the forests, skinny dip in mountain pools and waterfalls, play bridge, enjoy Gin and Tonics before lunch and sip French champagne at six. I know this to be true; notwithstanding her Alzheimer's, she had an uncanny knack of telling the time accurately, tapping her bony finger on her wrist when she was ready to order cocktails. She lived her last years, recalling her memorable trips all over the world. Japan and the Hogsback remained her favourite destinations, and Paris, of course.
"A safe fairyland is untrue to all worlds." ― J.R.R. Tolkien, The Hobbit, or There and Back Again.
We have come to realize that one should carefully consider advice from a son-in-law. His eyes lit up, and his attention was immediately focused on us when the penny dropped, and he took us seriously about our trip to the Hogsback. "Butch, you're going to the magic mushroom Kingdom; you've got to try them." Butch mulled the thought around for a while. We're not users of hallucinogenic, so this would be a huge leap of faith. En route, a favourite nephew called, once again upon hearing of our destination, enthusiastically suggested we try the world-famous Magic Mushrooms. We'd investigate it, Butch promised. Although we're cool with other people smoking pot and have accepted that anything goes, we're conservative when it comes to "partying" ourselves.
As I look back at my photographs, the Eastern Cape's incredible beauty with its mild climate, rolling hills, lush vegetation, and endless beaches must surely account for its people's relaxed, bonhomie. Winding roads crisscross rivers, villages and historical towns with names like Cookhouse, Adelaide, Fort Beaufort, Alice, Rhodes and Grahamstown.
For my Dad, we stopped off at his Alma Mater, St Andrews College, the high school he attended from 1944 – 1949 with its stately sandstone buildings and Church. A reminder of the schools I attended as a child. I love the history, tradition and of course the friends who shared my experiences and I could just imagine my father with his pals walking from hostel to church and classes under purple Jacaranda blossoms.
At last, we started our ascent into the mountains winding our way slowly up into the clouds. Large indigenous forests enveloped us as we climbed ever higher to the Hogsback.
The Three Hogs Mountains of the Amatole range. The three mountains that create the town's picturesque backdrop resemble three running hogs, hence the name.
Thomas Summerton, a gardener from Oxford, has a legacy that survives in the local gardens and attempts to re-create the English countryside. Apple orchards, avenues lined with hazelnut trees, berry fruits and the flowering plants that have spread throughout the surrounding area. European flowers, bushes and trees include rhododendrons, azaleas, fruits and berries. He named his farm Cherrie Orchard and built a furrow – Summerton's furrow – to carry water from a stream on Tor Done." (Wiki) The wild hazelnut trees are believed to be the remnants of the trees planted by the Rocher family, who thought hazelnuts would thrive there.
We spent two memorable nights with friends who allowed us to park on their lawn. We explored Hogsback, shrouded in thick mist, walked in the State forests during the day, letting the dogs run free. In the pine forest, we scoured for pine mushrooms. Unfortunately, there were none to be found.
St Patrick's on the Hill is a small chapel consisting of two combined rondavels, a neat, thatched roof, above which rises a single cross. The Church also boasts a 'bright' garden, full of rhododendrons, azaleas and hydrangeas. There is a stone arch with a brass bell that stands as a memorial for the Reverend Dr Bride Dixon, the first female minister in South Africa and doctor on the mountain for many years. The chapel was built in 1935 and is a regular place of worship. The chapel was built by Kenneth Houghton, the property owner, who conceived the idea to give his wife a special place to worship.
It's not hard to imagine why many people believe that J.R.R. Tolkien's book The Hobbit is set in Hogsback; the landscape certainly fits in with his imagery and wondrous descriptions. Some mysteries are meant to remain unsolved; I believe.
We tried, unsuccessfully, to hunt down the illusive Magic mushroom suppliers. The only person (allegedly) we found, was an unreputable fellow, with dirty dreadlocks, dressed in threadbare jeans and a vest, who had, by all accounts, consumed his supplies, was seen staggering joyfully up a slippery slope to his shack during the afternoon. I think it's all an urban legend. Very much like the De Doorns urban legend - it's believed "keys in a hat" parties are held. The allegations have never been denied nor have they been confirmed.
Our stay was far too short to explore all the eateries, pubs and hotels to make a fair comment. We did stop for coffee and cake at The Edge during the morning, which was a real treat. Unfortunately we didn't get to see the view due to the thick blanket of mist. There are numerous options to stay and the old Hotel is still going strong. Pubbing is a thing and I believe there's always fun to be had whether you're a local or a tourist.
With its quaint English nostalgia high up in the mountains, this laid-back village blanketed in mists during summer months and snowed in during winter certainly is one of my bucket lists places to return to. I'd like to see it all on a clear summer's day when the sun shines brightly, and I can enjoy the spectacular views, do a meditation while walking the Labyrinth, picnic in the gardens near a waterfall and hike the many trails. We did take our bikes but the weather wasn't condusive to cycling.. we'd be in plaster of Paris now.
Academics, artists, writers, gardeners, jewellers, cooks, potters, painters, hippies, a prosthetic manufacturer (who's limbs look like art, and keep up with fashion) Anyone who'd like to live a gentler life away from the hustle and bustle of city life are drawn to this place of tranquillity to find equanimity with like-minded folk, you may even like living in a wigwam, it's all there. Clarens in the Free State, although more developed, has the same ambience.
Our friends opened their hearts and home to us; we spent hours reminiscing travel stories, adventures, poring over maps recounting their steps on their 6-month experience into Zambia, Malawi and Botswana. At their table, we dined like kings. When Butch relaxed, I went exploring their magnificent garden with my camera.
Before we left, I carefully wrapped my fragile, raw clay Hog in bubble wrap and a towel, I was determined to get it home in one piece, and I did! The little potbellied jug, made by a local potter, is now my favourite custard jug.
It was time to continue our journey. As we waved cheerio to our friends, I punched in our next destination. Melissa, we're on our way.
"May the wind under your wings bear you where the sun sails and the moon walks."
― J.R.R. Tolkien, The Hobbit, or There and Back Again.
PLACES TO CAMP:
Swallowtail Campsite - At the top of Hogsback pass
Away with the Fairies
Terrakhaya for tenting

For news follow the Hogsback Facebook page
---