Seven Sticks Of Wood And A Block Of Blitz
---
---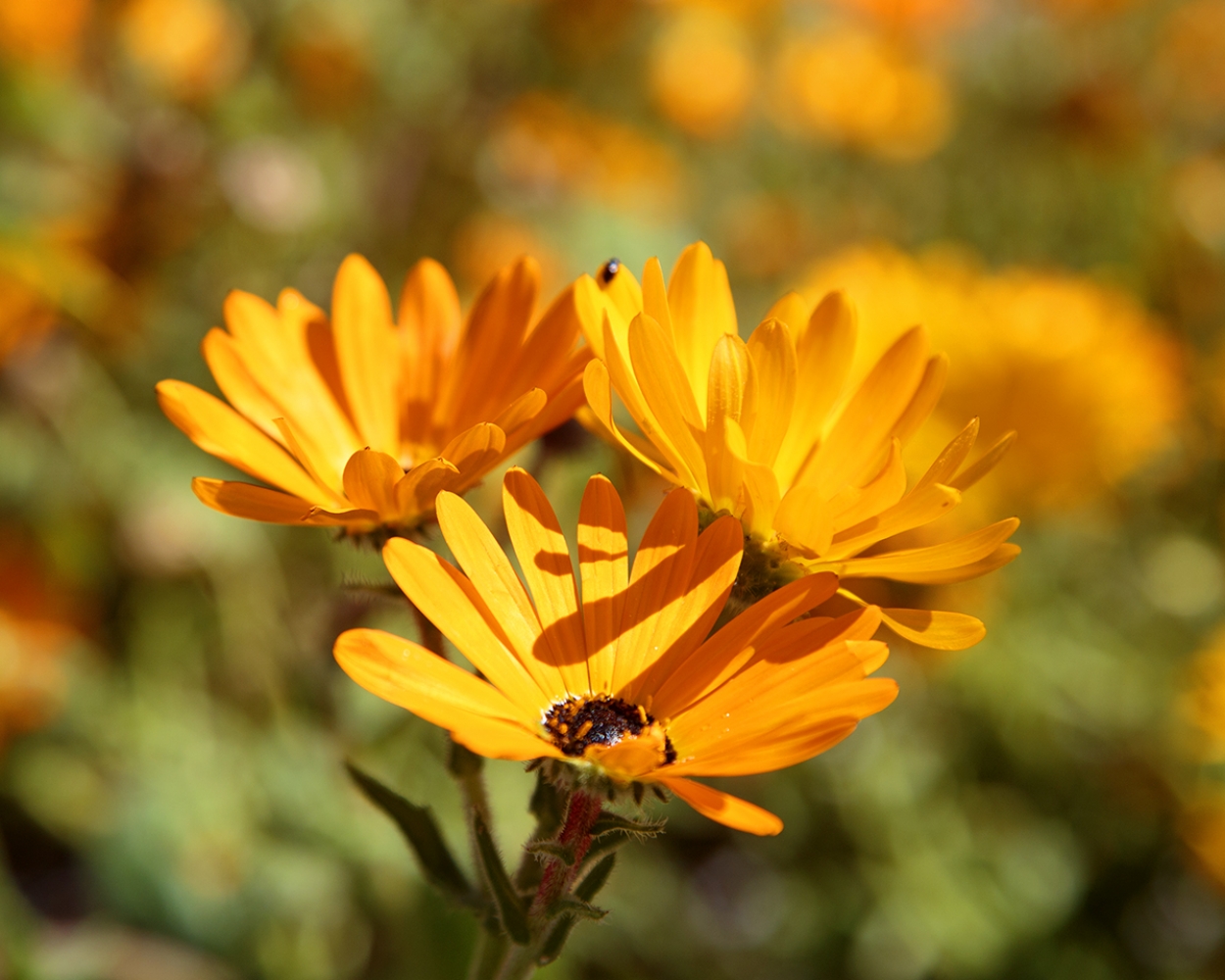 No final destination was the plan.
YR.com said it would be the worst weekend to go camping. I checked daily, which is very unusual, to see whether the weather would improve. Not a chance. We'd not have our spirits dampened by a drizzle so we packed up and went off to see some spring blooms in Namaqualand. As one does at this time of the year. It's the best antidote to winter. The swaths of yellow, orange, mustard, pink and purple daisies, fygies and bulbous plants that cover every corner of this dull corner of the world.
With much excitement we set off on Friday after a light lunch, our Audiobook on, my crochet hook ready.
The Boland is covered in green, fresh, young green leaves are sprouting everywhere. Vineyards are just starting to shoot new growth and early varieties are well on their way and some vines are in full leaf. In less than 12 weeks farmers will be ready to harvest.
As the mountains give way to the rolling hills of the Swartland Canola fields are in full bloom. The landscape is one undulating wave of golden sunshine yellow and bright green alongside wheat also growing vigorously trying to keep up. I can see why artists like Pieter van der Westhuizen couldn't resist the colourful landscape dotted with labourer's cottages and strips of Blue gum trees.
We were also rolling along at a brisk pace only breaking our speed when the stop-and-go necessitated it. I loathe a pothole so never complain at the inconvenience. This time the friendly ladies waved us through in no time.
Yzerfontein on the west coast was our destination. I had my reservations. I'd last been there when Marthie turned 50 and I didn't quite get what people raved about when they spoke about this coastal village. Butch clearly remembers the café owner telling him sagely "there's only one road in and one road out"! Nudge-nudge-wink-wink. That got my hackles up immediately and left a rather bitter taste in my mouth. That spelt exclusion if you didn't fit the mould.
We cruised into the campsite, reservations were not necessary, we chose our spot, right next to the boardwalk and settled in. Although not busy there were quite a number of campers around, from a certain age we all congregate around the ablutions don't we?
Convivial is how I'd describe it. Neighbours came around to greet us and we were encouraged to see a spectacular sunset over the ocean. The well maintained boardwalk was a treat and we were able to watch the orange ball dip down into mercurial water on the horizon while walkers, children and their dogs took to the beach on a perfect evening.
The dunes have been reclaimed and a spectacular indigenous garden has been laid out to stop erosion. We enjoyed our sundowners before returning to light our fire for our customary Friday night steak braai.
It is my experience that when generous men turn a certain age they develop a resistance to the BIG FIRE. Where once it was not a problem to use copious amounts of fire wood it now is the 7 sticks of wood and a thumbnail of Blitz (firelighter) fire. The bushel Butch had carted from the shop was new wood and it was wet. He huffed and puffed and blew on his wood to tickle a flame from it until voila he remembered Bob's bellows. That, and a bit of elbow grease did the trick and he eventually had a hot sit-fire going.
The usual west coast mist stayed at bay and we were able to sit out of doors well into the night. What a pleasant surprise, I can't remember when last we did that.
A late start we had next morning. Glorious. No rush. I must concede, the Yzerfontein campsite comes highly recommended. Well managed, tip-top maintenance, clean, lawns groomed, ablutions very good, hot showers with good water pressure. Remember the west coast still has water restrictions.
Each plot is surrounded by a tall Minatokka trees making sites private. Although sites are fairly small the rates are reasonable. We paid R90pppn with a R100 key deposit. I am not sure how many vehicles/tents are permissible. There are electrical points and a water tap. Our site had been cleaned before we arose in the morning. I think the camp manager runs a tight ship!
On a perfect summer's day the beach must be a joy for families with children, long walks can be taken and we felt really safe.
I am inquisitive and had to do a recce of Yzerfontein. We'd not had breakfast and my tummy was rumbling. The intoxicating smell of freshly baked bread wafts in the air as we walked up the road, which makes entering the fabulous Rosemead Artisan bakery nigh on impossible to resist. For me, their Cinnamon bun. Delicious. A light traditional cinnamon bun with swirls of cinnamon, but, the cherry on top was the cream cheese icing. Oh my word it was delicious. Butch enjoyed his Pasteis de Nata, but I do think I had the buzzer moment. We left with a French loaf for our picnic lunch in the West Coast National Park and two cinnamon buns to enjoy with our morning coffee on Sunday.
I must confess I was impressed with Yzerfontein, it's grown, has many interesting shops, restaurants, craft breweries, a lovely beach, many accommodation options and it has become quite cosmopolitan! There are beautiful new homes and the old ones have had modern facelifts. A very good destination, near Cape Town and surrounds. The Fab Four will be back. It was time to hit the road.
We ambled along back to the big road (west coast road) and turned in at the West Coast National Park. Cape Nature had a special on and we were able to enter at no charge! Because of foul weather reports daytripper were few and visitors making our visit very pleasant. The flowers had died down quite substantially but we were able to get the gist of a very good flower year. We enjoyed our picnic on a perfect day with a view of Langebaan Lagoon. At some stage I need to stay in a boat house too!
Wild camping is what we opted for on Saturday night. We turned off at TREKOSKRAAL (means the fold or corral for draught oxen) en-route to Paternoster, this well-kept secret is a stretch of coast south of Paternoster. There are no facilities. Its first come first served as far as camping spots are concerned but there are numerous bays and suitable spots. Unspoilt, beautiful, peaceful. Simply sublime. Cattle slowed us down as we neared the beach but, this is their playground afterall.
Years ago farmers, the odd free-spirit and people in the know went there and set up makeshift shacks to stay in, these have largely disappeared, now it's rooftop tents, Overlanders (like us) and campers who go to Trekoskraal. From the thick mist the cattle came down to the beach on our last day, I think they were telling us to go home it was their turn to graze and lick at the salt. Unfortunately, although prohibited, there can be motorbikes and quadbikes around, they're like mosquitoes, and you don't notice them until they start buzzing around you.
Once again the good weather held and we could sit out of doors until bed time. This time we didn't have any wood. I was adamant we would have a pit fire. So off we went collecting armloads of dried kelp, the odd piece of driftwood or twigs washed up on the beach. The fire was massive but very smokey and had to be fed frequently. Eventually we gave up and retired with our books.
Everything was going swimmingly until we needed to flush our toilet. Nothing. Unbeknownst to us the electrical wires had oxydised and snapped. We had no electricity to the water pump. It was not a huge set-back we just got on with it and made do with plan B. We'd have to stop at AC Motorhomes en-route home to have it fixed.
A road-trip is never complete without investigating new eateries and where else than Paternoster for a new dining experience. If someone asks "have you been to Paternoster/" and you say "yes!" but you've not had a drink in the Panty Bar at the Hotel then you've not been to Paternoster. It's an institution. One day you might drop your drawers there too! They serve excellent meals on the stoep, perfect with the children after a morning on the beach.
Oep ve Koep was open. A shopper's delight, I often get no further than the first counter where the recipe books are laid out. What a lovely selection of South African recipe books.
Butch struck up a conversation with Kobus van der Merwe's (he of Wolfgat fame) Mom who owns the shop while I browsed to my heart's content. A lovely menu is served for lunch there too, but, by appointment only. Next time we're sure to make a reservation. Inspired by Kobus but executed by Chef Adele Hughes. The select black board menu looked scrumptious.
We were off to LEETO, a relatively new restaurant situated at the Strandloper Ocean Boutique Hotel. A beautifully appointed space all white minimalism with interesting art and gorgeous King Proteas on the tables. Guests can sit indoors or on the veranda. Here's it's all about seafood and sea views. Beautiful.
The Spring Specials were still on and we decided we'd take up the offer. My black mussels in a Malay curry sauce was sublime. The mussels plump and steamed just right. The sauce velvety, full of authentic flavour with just the right heat. Butch sang the praises of his delicious Seafood Risotto. Seasoning was spot on and nothing overwhelmed the delicate seafood. The tenderest baby calamaries and plumpest prawns.
Our mains were Sirloin steak done to perfection. Beautifully plated, crisp vegetables and a croquette to die for. Butch had the Seafood pasta. I couldn't get a word out of him except oohs and aahs. We normally share, I did, but I didn't get a lick of that creamy pasta sauce
No meal is complete without dessert and I had left a space for mine. A lemony gelatin mousse with berries and a chocolate extravaganza for B served with a most interesting Ice Cream – Marmalade. Very good indeed.
Being full of bonhomie we decided to spend another night at Trekoskraal before returning home. We could justify our decision, we needed to do maintenance in Brackenfell. Once again we agreed that Paternoster certainly was a destination to return to and we would. For a relatively small seaside town it is the capital of world class eateries in South Africa. I can't imagine another destination with so much variety. Can you?
We slowly meandered back to our bush camp choosing a different spot this time. Another great spot with lawns, a stretch of beach and the rolling waves. Far into the distance there was one other vehicle parked for the night. This time we did have ample wood, thanks to an informal trader selling wood on a corner as we left Paternoster.
Our tranquility was momentarily disrupted when a small delivery truck snuck into a space just a few meters from us. We grumbled, but the young couple were so quiet that we forgave them. Until you've walked in another person's shoes you have no idea. Turns out they also have a story.
Our plan was to return to Yzerfontein to have cinnamon rolls, but, the bakery is closed on Mondays and Tuesdays. We stopped at the first Farm Stall, it always looks busy, which is a good sign. Sadly we were both disappointed. It was more shabby than chic.
Yesterday morning Butch received a WhatsApp with one photograph, the Honey Badger with a flat tyre. Back, right-hand side. Our nemesis. Oh what to do?
We use the following apps YR.com for the weather and iOverlander for possible camping sites, Tripadvisor and Google Maps, Spotify and Audible to make our roadtrips and camping more enjoyable.
STRANDLOPER OCEAN BOUTIQUE HOTEL - LEETO RESTAURANT
Patterson close
Paternoster,
Saldanha Bay Municipality
7381,
South Africa
TEL: +27 60 927 0403
---