Spring Shenanigans and Daisies with Honeyed Hearts
---
---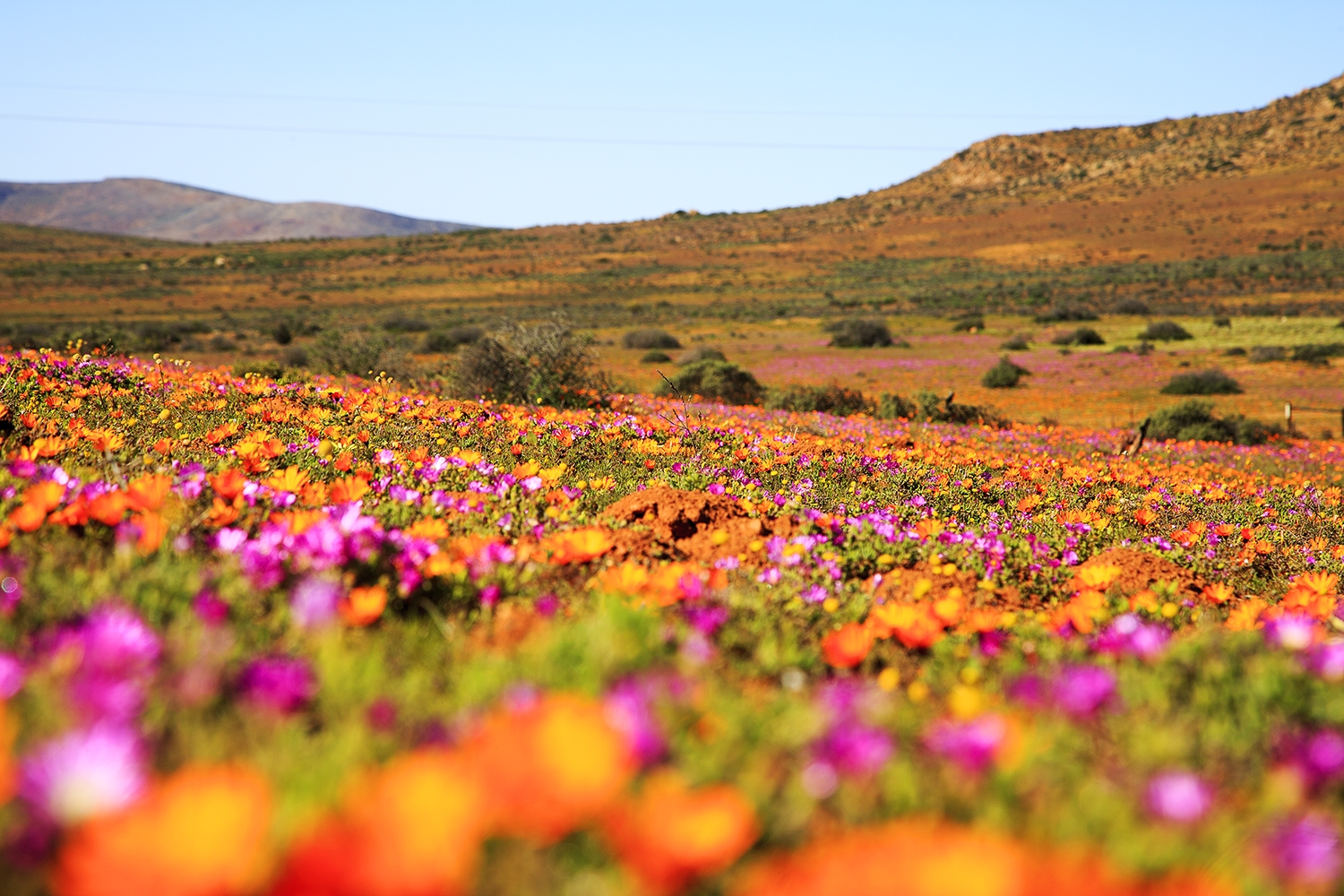 TIPS AND TRICKS FOR SUCCESSFUL FLOWERING IN NAMAQUALAND.
Within a matter of hours, we had the Honey Badger packed, our bikes strapped on, our picnic basket brimming with delicious goodies, the fridge stocked, and meat in the deep freezer for six braais. My tummy clenched and unclenched like a teenager in love. We were going on a road trip to see the magnificent Namaqualand with its carpet of flowers.
As Butch so wisely said, "photographs, no matter how good the photographer, can't do justice to the magnificence of the flowers this year." I will not try to prove him wrong but to encourage anyone able to do so to visit the Namaqualand and/or West Coast now. Day trips are possible, but of course, a week or two would be a bonus for the lucky ones who can organise themselves.
Here are some of my tips:
Check the weather on Yr.com before making any plans.
The flowers only open when the temperature is a minimum of 18°C.
Try and have the sun on your back to maximise the encounter. The bloom's faces follow the sun.
Start your flower experience from as far north as possible.
Get to your starting point and work yourself down south.
The best viewing times are from 10h00 until 16h00, there's no early morning rush, unless you need to travel to a new destination.
Spend the day or as long as possible in an area.
Pack a picnic basket or a small braai grid, a chop and braaibroodjies for lunch in the sun.
Take a chair, sit and take in the splendour.
Whatever you do don't use the viewing time inside a restaurant or coffee shop.
Who to call for flower route tips:
Call in at the Tourism offices, e.g. the lady at the Garies Info Center is brilliant, she'll mark a route/routes on a map. Purchase the latest T-Shirt.
Speak to other travellers, they'll give you the best sightings and what to avoid at the time.
Join FaceBook and other Social Media groups, e.g. Namaqualand flower Group.
Check on the iOverlander App for camping spots. We made no reservations beforehand. Mark your spots if you're wildcamping too.
Talk to friends who've been or are currently there.
What we packed in our picnic basket:
Pre-prepared tomato sauce (smoor) for Boerie rolls, we used left-over sausage from the previous evening.
Tapas platter with cheeses, pickles, olives, Rosa tomatoes, cold meats, hummus and seed biscuits.
Wraps filled with chicken espetada, left-overs from previous evening's braai.
Fruit salad, Bircher, yoghurt, Muesli, hone etc., for anearly start.
Pita pockets filled with lettuce, beef strips, tomato and tzatziki or mustard.
Jaffles filled with Bolognaise sauce or Curried Mince. Sauces were frozen. Pasta is easy to prep for evening meal.
Soups and bread with condiments. Premade and frozen. Beats the chills.
Butch say's "don't forget the check table cloth and "lap" napkins."
I always have a Salsa Verde in the fridge a delicious condiment.
OUR ROUTE:
From Worcester to Piekenierskloof campsite.
Maskam Guest Farm, south of Van Rhynsdorp, the owner allwed us to park in the parking area at their Kukumakranka Kombuis Restaurant.
Garies - camped at Dwalita's Klipkraal on the a farm 30km south of Garies.
Nieuwoudtville - camped at Matjiesfontein farm.
Biedouw valley - emergency campsite at Enjo Nature Farm.
Clanwilliam - day trip and walk at Ramskop Wild Flower Garden.
PITSTOPS:
Rietdakkie farmstall for coffee and Macarons.
Groot Lemoen Farmstall for oranges, naartjies and dried fruit.
Clanwilliam - Veldskoendraai farmstall for brunch.
Coffee and carrot cake for afternoon coffee at Kukumakranka Kombuis.
Pop-up coffee shop for a coffee and chocolate cupcake in the Bidouw valley.
De Tol farmstall on the crest of Piekenierskloof pass for Butch's hamberburger craving.
Shopping at the Tea shop Carmien, their flatbreads looke scrumptious. Do a tea tasting or tea pairing. It's on my to-do list.
PASSES WE CRISSCROSSED:
Piekenierskloof.
Studers Pass, east of Garies.
Langkloof Pass, south of Studers Pass.
Rooiwalspoort Pass on the R358
Botterkloof Pass on R364
Klipfonteinrant Pass on R364.
Hoek-se-Berg pass into Biedouw Valley.
Pakhuis Pass on R364 just north of Clanwilliam.

New word I learnt:

How to say Kukumakranka – with all the clicks click-a-click-ma-click-ran-click-a (the K's are a click) We didn't see a plant. I'm on the hunt.


The sudden cold spell we're currently experiencing is a blessing in disguise. Experts foresee that the flowers will bloom longer now. That allows everyone to arrange a quick getaway. All reports indicate that the West Coast National Park and the Namaqualand National Park are also excellent destinations, the Flower Church in Clanwilliam is always good. In addition, the Main road has been adorned with huge baskets filled with Fynbos. Well worth the detour.


Things to remember:
Take your hiking boots or comfortable shoes.
Pack something warm e.g. puffer jacket, beanie and bedsocks.
It's often windy, and temperatures may suddenly drop. Have an alternate destination, or enjoy a rest day.
Take your camera, a hat, sunglasses and a change clothing, it can get quite hot/cold. (18C is cold in my books)
Take bikes. There are many great cycling routes.
Keep meals simple.
There's always room at the Inn.
If you're interested, take a field guide, map and Namaqualand flowering book.
Pack a fold-up camping table and chairs.
Fill a flask with boiling water for a cuppa or a tasty soup for a quick lunch/snack.
We had chocolate bombs - add one to a glass of hot milk before bed. Decadent.
I'm afraid that future spring flowers might pale by comparison to the bumper year we're experiencing.
These aren't all of my photographs there are so many more but I didn't want to overload the download. I shall post details of our trip in my next blog. If you think the colours are overwhelming, believe me they are.
MY A.B.F OF TIPS:
When taking photographs I try to move around as much as possible, I get up close, shoot into the sun, use natural light, fast shutter speeds, there's always a breeze, I try portraitures, landscapes, macro. All in an effort to tell a story and to build memories.
---