Tantalizing Tomato Teazer
---
---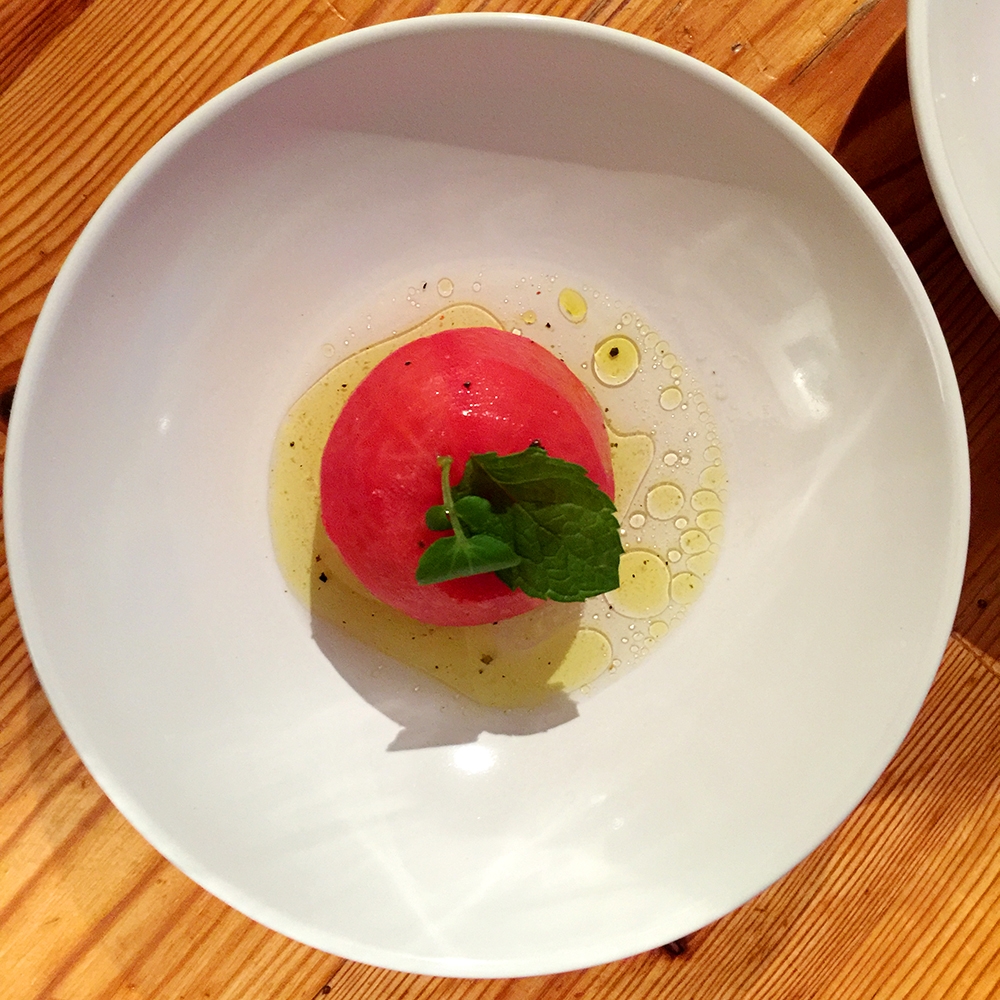 Last week we treated ourselves to a Fine Dining experience at the Conservatory, a pop-up restaurant Lekkerlek by Likoke (Lick Okay) inspired by the renowned Belgium Michelin Starred chef Piet Huysentruyt, who is rounding off his world tour in Franschoek. The taster menu, inspired by Belgium, Congo and South African cuisine was a fusion of flavours to tantalize our palates. A set menu with "surprises" thrown in to heighten our experience.
I loved the small, delicate portions, plated to perfection, the combination of textures and flavours, some from the sea, some for the garden and of course the pantry.
On Friday I was gifted a basket of small, fresh, red tomatoes, heaven, I decided to use them to make my starter for friends. Inspired by one of the courses we enjoyed at Likokè, I adapted their rendition and came up with this delightfully light, fresh and tantalizing tomato teaser! I have a fantastic Tomato Peeler made by VICTORINOX
MY TANTALIZING TOMATO TEAZER
1 smallish red, firm tomato per guest, (peeled using a tomato peeler, but I'm sure you could dunk the tomatoes in boiling water for 3 minutes and remove the skins in that way too.)
Carefully cut the tops off, using a teaspoon remove all the seeds carefully.
Once peeled and de-seeded put them on a plate, cover with cling film and refrigerate until needed.

SALMON FILLING:

6 Servings:
80g Smoked Salmon, flaked (or a tin of Smoked Salmon, Trout or even tinned Tuna)
15ml Capers, finely chopped, do not discard the vinegar.
1 small onion, finely chopped
1 gherkin, finely chopped
5ml fresh ginger, grated (optional)
1 small red chili, seeds removed, finely chopped
10ml Soya sauce
30ml Mayonnaise
15ml basil, leaves finely chopped

Combine all the ingredients and mix well.
Fill the scooped out tomatoes with the Salmon filling.
Return to the plate, cover once again, and return to the refrigerator.

VINAIGRETTE:
15ml Caper vinegar
15ml white wine vinegar
60ml water
30ml Olive oil
A good grinding of black pepper and a pinch of salt.

Mix all the ingredients together.
Taste and adjust the flavour. The Vinaigrette must be very light and palatable. If not add a dash more water.
Bruise a handful of Basil leaves, place them in a jug and pour the vinaigrette over the leaves. Leave to infuse for a while.

Plating:
Place the tomatoes upside down (cut and filled to the bottom) in a flat bowl
Carefully spoon 30ml of vinaigrette without the leaves over the tomatoes glazing them and pooling the vinaigrette at the bottom of the bowl.
Garnish with a sprig of basil.
Voila – Serve
Bon Appetito!
For a special treat, do try
The Conservatory
Happy Valley Rod
Franschoek
South Africa
or
if you're in France and anywhere near Les Vans
7 Route de Paiolive
07140 Les Vans
France
+33 475 88 09 74
---