Wandering Closer To Home - Slanghoek - Kraalkloof Camp
---
---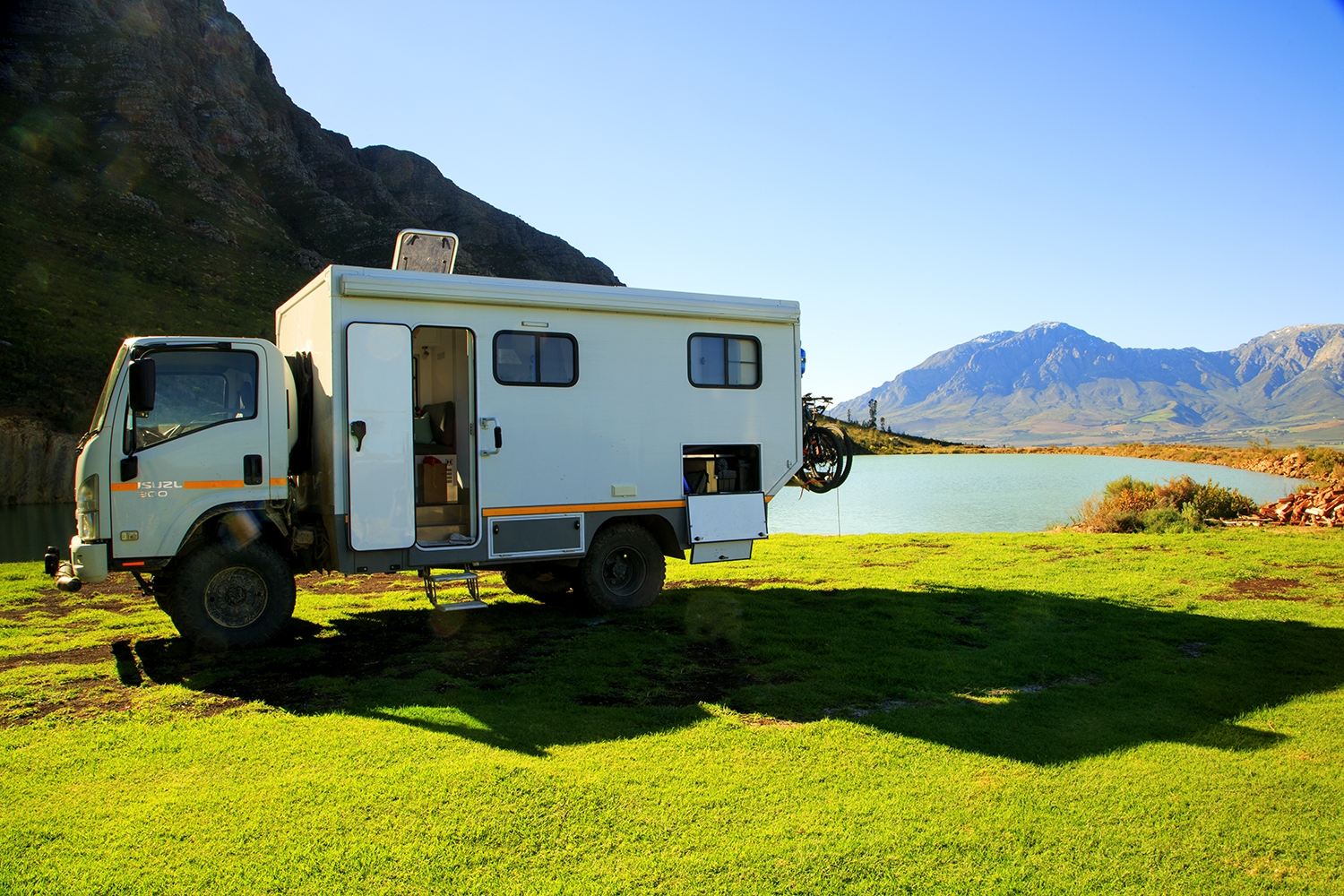 Butch and his colleagues meet up in their library every morning for coffee. He says "sometimes we talk law, but, mostly, we just catch up and chat."
Everyone knows our story by now, and often good trip ideas are shared.
Last week he was tipped-off about a camping spot on a farm in the Slanghoek valley. A neighbouring farmer, while building a new irrigation dam, high up on the slopes of his mountain, saw the possibility of creating a weekend getaway campsite. The view was the final kicker sending him into action—an unprecedented view all the way to Worcester.

Soon after completion, the indigenous fauna and flora were reintroduced to the area. A vast stretch on the embankment was carpeted in a lawn—the perfect spot to set up camp.
The dam is fed by natural spring and mountain water. If one listens carefully, the run-off stream can be heard gurgling as it runs to the other dams further downstream. A few years ago I had the pleasure of visiting Lake Moraine in the Rockies with its crystal clear turquoise water, the water in this dam comes close to that. A glacial blue I'd only ever seen there. Could this extraordinary colour be as a result of the recent snowfalls? Like drops filling a cup, the little stream fills five dams.
Mr Le Roux, the owner of the land, refurbished an unused shipping container turning the space into a spacious shower room with a separate lavatory and very comfortable kitchen/scullery. My shower meter will definitely rate the shower in the top 90%. Excellent pressure. Tiptop temperature from the gas geyser. Solar power keeps the lights on.
His private caravan is permanently set up adjacent to the container and covered by a large roof. There is enough room to pitch a tent undercover too—perfect protection against the elements. There is a large fire pit with the necessary equipment to barbecue (braai). There was a colossal woodpile for our fires.
It is interesting to note that the sun slips behind the mountains very early in the afternoon, and by 15h30, one can call it a day. In the summer months this must be glorious, a long, relaxed afternoon. Because this was winter, as soon as the sun disappeared, a chill ran through us, calling for warm jackets and jerseys. A signal to light a massive fire in the firepit. Not a bad idea, at all.
We left home shortly after lunch, and before our indicator could switch off, Butch's phone started ringing. A curious friend wanted to know where we were heading off to now that the local travel ban had been lifted. He sounded very disappointed when I told him we would be setting up in Slanghoek. Just around the corner. Not to be outdone they were off to the Tankwa Karoo.

13 reasons why I recommend this campsite.

1. The location is unsurpassed - away from it all, yet, barely a 90-minute drive from Cape Town.
2. Perfect for a small group, family or friends (max 10 pax)
3. Private camping.
4. Safe
5. One could leave after work on a Friday and be there in no time.
6. On the Rawsonville wine route
7. Close to Worcester for shopping or golfing (not that one needs to go golfing)
8. Farmstalls on the Worcester/Wolseley road are plentiful. Perfect for stocking up with last-minute goodies.
9. Opstal winery, restaurant and wedding venue is around the corner
10. Excellent for hiking, biking, birding, and you're still connected. 4G
11. Day trips to surrounding areas like Tulbagh, Robertson, Nuy
12. The campsite can be reached in an ordinary bakkie without 4X4
13. Close to Goudini Spa for a healing hot spring dip.
It is important to note that campers must be fairly self-sufficient as there's no electrical connection. There is a gas geyser in the kitchen and ablutions.
We were joined by family and friends and still adhered to my social distancing demands. I am a stickler on the subject. There's plenty of space for everyone to move around comfortably.

---oOo---

It is our custom to share cooking duties. On Friday Butch cooked up a storm and served a deliciously tender and succulent Ribeye steak, sliced, and served with an authentic Urugauayian Chimichurri pesto. We prepared the sauce at home the day before.
As the sky darkened and the full moon rose over the horizon, we saw Worcester's street lights twinkling in the distance. We also witnessed the snaking of vehicle lights far below us. We later read that it was the farmers' neighbourhood watch, local police and security firms parading, showing their solidarity in keeping the district safe.
We gossiped, speculated and argued about fake news and propaganda late into the night spurred on by a large pickling jar of Boere Meisies (Apricots pickled in local hooch). Found, tucked away, in the cupboard.
The valley below us was covered in a thick blanket of mist on Saturday morning, quite surreal, with just the tips of hills and tall trees sticking out.
Both mornings were spent leisurely, some of us hiked up the mountain, or went for walks discovering the Fynbos and identifying Sugarbirds and Sunbirds.

Butch and I, after a short hike up the mountain, went for a cycle and spotted the local troop of baboons in the vineyard. We'd heard their calls on a few occasions and saw them running along the rocky outcroppings before settling for the night. The ruckus they caused during the night reminded us that the mountains are home to the elusive Cape Mountain leopard. They might've felt vulnerable being lit up and exposed by the full moon.
Breakfast was a grand affair at midday. We all contributed to a scrumptious Continental breakfast.

Sue and Percy served their traditional Lasagna pot on Saturday night to a round of applause. We all prepared our hot water bottles, extra blankets and winter woollens before bedtime, not to be caught unawares like the previous night when we were chilled to the bone.
Sunday was a day to chill. We all took it slow. A warm berg wind started up, a sign of changing weather conditions. Sue, Percy, Jay and Minette went on exploratory hikes. Butch added the spot to iOverlander as a possible camping destination for overlanders. I started packing up.
After we'd all luxuriated in the hot showers, Jay and Minette made a proper English breakfast with all the bells and whistles. Butch was in heaven, tucking into a plate piled high. We very seldom prepare an egg and bacon breakfast.
After packing up, we all said our goodbyes and agreed Kraalkloof Camp is unique and well worth a visit. I think it's a spot to consider during the summer months too. I'm sure we'll be back.
Typically, we didn't get off scot-free. An unexpected gust of wind ripped our awning from its casing, causing damage to one of the struts. We are so punch-drunk we just roll with them now.
---oOo---

URUGAUAYINA CHIMICHURRI

INGREDIENTS

125ml Olive oil
30ml red wine vinegar
125ml chopped parsley
4 cloves of garlic, peeled, chopped
2 small green/red chillies, chopped. Remove seeds for less heat.
10ml dried oregano
5ml coarse salt
A good grinding of black pepper
Put all the ingredients into a small food processor and whizz until you have the consistency of a pesto. Not too fine, but not too crunchy. Pour the pesto into a glass jar with a tight-fitting lid. Do not refrigerate. Serve drizzled over the steak.
TIP: the sauce can be served on the side too. Perfect with left-overs. Chicken, mutton or fish could do with a swirl of Chimichurri.
---oOo---

At school, we learned, that one always serves a green and yellow vegetable. One, for colour and two, for the nutritional value. On a large platter, we served a Roasted Rosa tomato and Aubergine salad on a bed of lightly curried yoghurt. A steak without spuds would be a sin. In the fire went our scrubbed potatoes which were lightly smashed and served with generous dollops of sour cream and garlic butter. For dessert, we tucked into a Vreet-my-op self-saucing Chocolate pudding in the pot.

ROASTED ROSA TOMATOES AND AUBERGINE PLATTER
1 punnet Rosa tomatoes
30ml olive oil
15ml balsamic vinegar
10ml brown sugar
A few sprigs of thyme
Zest of one lemon
Preheat the oven to 200֠C.
Line a baking tray with baking paper or tin foil (makes cleaning more manageable). Place the tomatoes on the baking tray, drizzle and coat the Rosas with olive oil and sprinkle the rest of the ingredients on top. Place on the middle oven rack and bake for 20 minutes until cooked. You can bump up the heat to grill allowing the tomatoes to burn slightly. Keep at room temperature until needed. If you're doing these a day before (as I did for camping) place in an airtight container, refrigerate. Remove to allow the tomatoes to reach room temperature before serving.

3 small aubergine, halved lengthwise
Brush with olive oil on both sides
Season with salt and a generous grind of black pepper
Heat a griddle pan on the fire. Place the aubergines on the griddle. Turn after a few minutes. Repeat until cooked. Remove from the heat and keep to the side for plating.
1 onion, sliced
15ml olive oil
Salt and pepper to season
A handful of slivered almonds
1/3 of a punnet of Pomegranate jewels for garnishing.
Saute the onions in the oil with seasoning until golden brown and glassy. Remove and keep to the side.
Roast the almonds in the pan until golden.
CURRIED GREEK STYLE YOGHURT DRESSING
2/3 cup of Greek-style yoghurt
10ml curry powder
5ml Tumeric
Salt and pepper to taste
Mix all the ingredients together.
PLATING OF THE DISH.
In the middle of a large platter spread a thick layer of curried yoghurt dressing. Spread the onions over the yoghurt. Keep 30ml of dressing to drizzle over the aubergines. Pile the tomatoes and any sauces on top of the dressing. Arrange the aubergines around the edge of the platter and drizzle the dressing on top.
Garnish with sprigs of thyme, the almonds, a few strands of lemon zest and a drizzle of olive oil to glisten the dish up. Sprinkle the pomegranate jewels over the vegetables. Serve at room temperature. Delicious.
With crusty bread, this dish could be a light meal.

---oOo---

SMASHED POTATOES
1 Medium spud, per guest, washed and coated with olive oil, individually wrapped in a generous sheet of tin foil. Place the potatoes to the side of the fire on a layer of coals. Turn regularly and bake for 45 minutes or, depending on the size, until soft when pierced with a fork. Most men know how to do this!
Once the potatoes are soft, remove the tin foil. Arrange on a suitable platter. Smash the potatoes lightly with a fork. Place a pat of garlic butter/butter into each potato and then drizzle a generous dollop of Smetena (sour cream) over all the potatoes. Garnish with chopped parsley and a good grating of Parmesan cheese. (optional, of course.) A winner! Potatoes can be dressed up with a sprinkling of chopped and fried bacon bits, chopped chives, parsley and grated cheese.
---oOo---
VREET-MY-OP: SELF SAUCING CHOCOLATE PUDDING

The ingredients for this pudding can be prepared beforehand and just whipped together 30 minutes before you sit down for your meal—so easy peasy.
Sieve the following ingredients and keep in an airtight container
250ml cake flour
10ml baking powder
2,5ml salt
125ml sugar
45ml cocoa powder
In another small airtight container, suitable for pouring, add the following:
125ml milk
15ml butter
5ml vanilla essence
Mix the sauce ingredients in yet another airtight container.
125ml brown sugar
30ml cacao
TO ASSEMBLE:
Grease a black pot, suitable for outdoor cooking, with butter. AKA - A Dutch oven.
Pour the dry flour ingredients in the first airtight container into a mixing bowl.
Warm the milk and butter mixture until the butter has melted. Add to the dry ingredients. Using a wooden spoon stir well until the mixture is smooth and velvety.
Pour the batter into the black pot.
Sprinkle the brown sugar and cacao in the third container over the batter.
Pour 500ml boiling water over the batter and sugar.
Cover the pot with a lid
Place the pot on a three-legged stand with a few hot coals underneath. You will have to guess at the temperature it should be reasonably hot (180֠C if done in an oven) cook for 20 minutes or until baked.
Remove from the heat and serve with cream, ice cream or custard.
---oOo---
For reservations:
WhatsApp Mr Le Roux +27 82 373 3001
I include some landscape photographs to showcase the extraordinary sunrises, sunsets and vistas.
---